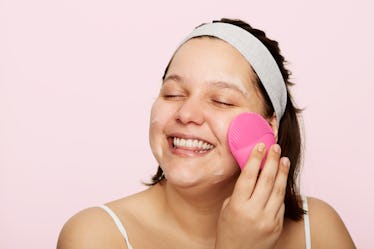 Skincare Experts Reveal The Best Ways To Take Care Of Your Period Acne Each Month
Oh, period acne — thou art such a consistent torment. While some may be genetically #blessed in this regard, if you have a menstrual cycle, you've probably experienced the unfortunate phenomenon of getting gnarly breakouts during that time of the month. It seems like your regular skincare routine, no matter how devoted you might be to it, just doesn't work anymore once your period shows up. Skincare during your period seems to be a whole other ball game, so how the heck do you go about rerouting your usual routine? And why do these period breakouts even happen in the first place?
Well, according to Dr. David Lortscher, a board-certified dermatologist and founder of the skincare line Curology, most pimple-prone women do, indeed, find that their acne tends to get better and worse in cycles, often in tandem with their period.
"The average menstrual cycle is 28 days," Dr. Lortscher tells Elite Daily, "and in the first half of a woman's menstrual cycle, the predominant hormone is estrogen, which helps acne."
Of course, there's always a "but."
"But in the latter part of the cycle, the main hormone is progesterone, and its rise stimulates the production of sebum," he says. "This is oil produced as a natural skin lubricant by the sebaceous glands in the skin."
As your 28-day cycle heads toward menstruation, the dermatologist explains, these higher progesterone levels further influence the sebaceous glands to make even more sebum, which can lead to more clogged pores — and, you know, those gnarly, often-super-painful zits. Basically, when Aunt Flo comes to town, it's just a freakin' oil factory for some of us. Thus, careful skincare is, not surprisingly, pretty key here.
But the bottom line is this: If you struggle with hormonal acne, before you try anything, it's always best to check in with a skincare specialist or dermatologist, since everyone's skin is different, and what works for someone else might not work for you.
Luckily, Elite Daily gathered some expert insight and general, go-to tips for how to approach the acne that seems to explode in pimply little fireworks during that time of the month. Here's how to handle your period pimples the next time they pop up.