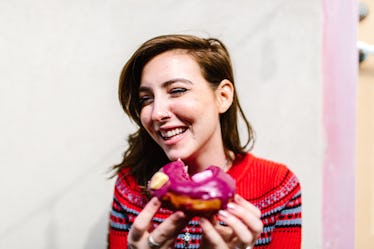 When PMS Is Making You Crave Sugar, Satisfy Your Sweet Tooth With These 7 Healthy Treats
Period cravings are something every woman has to come to terms with, but while we're on the subject, let's hone in on the actual issue. Going for that second (or third) scoop of Ben and Jerry's or inhaling an entire Hershey's chocolate bar is hardly what I'd consider a horrible struggle in comparison to, say, borderline crippling uterine contractions. Curbing the craving isn't the issue, it's the fact that craving sugar before your period tends to take precedent over your healthy routine, and half the time, it's almost impossible to feel completely satiated from a single, pathetic cookie.
According to a 2016 study performed by the National Institute of Nutrition and Food Technology, it's likely that women crave sweets around that time of the month due to a rise in estrogen, and a dip in serotonin. Serotonin, if you're unfamiliar with the term, is a chemical produced by nerve cells that regulates anxiety, happiness, and mood. The act of eating chocolate and other sugary treats produces insulin, which turns blood sugar into energy, which is probably why, right before your period, you're craving anything and everything sweet.
However, nutritionist and founder of Pure Change Dr. Charles Passler tells Elite Daily that processed goodies are actually no good for your system, as they lead to hormonal imbalances and stress on the liver.
"Chemicals and processed foods stress the liver, and high-carb foods stress the pancreas," Dr. Passler explains. "Both situations force the body to work harder and can cause an increased production of the stress hormone cortisol. High cortisol...decreases cognitive function and energy."
Most of us are well aware that processed sweets aren't great for our digestive systems, but anyone who has ever experienced a sugar craving before their period will tell you it's extremely hard to make the smarter choices when your sweet tooth is ravenous. So, here are a few healthy alternatives to curb a sugar craving when your menstrual cycle is demanding anything but healthy decisions.