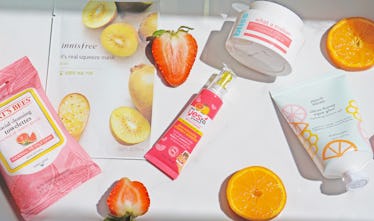 25 Fruity Skincare Products That Will Make Your Face Look Good Enough To Eat
We live in a world that is so oversaturated with beauty products, skincare ingredients, and clinical claims that promise better-looking skin. But if really you think about it, there was once a time when our ancestor's ancestors relied on a series of berries and fruits they found hanging on trees outside their huts to make them look and feel more beautiful — yeah, I took it way back. But the point is, they relied on ingredients from their crops to DIY their own skincare routines, some of which we still use today.
So if fruit-powered skincare was good enough for them, why don't we get back to the basics and start incorporating the best ingredients found in nature back into our beauty routine? Just because we don't live in huts and hunt for our food, doesn't mean we can't still get glowy skin from a grapefruit, for instance.
So, to help you get closer to nature and find your most beautiful-looking skin yet, I searched for the best fruit-infused skincare products from watermelon to kiwi. Prepare yourself (and your wallet) for super sweet-smelling formulas and adorable packaging that will make you so thirsty for summer.
They say you are what you eat, but I say, you are what you put on your face.
Watermelon
More than just a yummy summer snack, watermelon is the latest superfruit to land in skincare favorites across the board. Watermelon is made up of 92% water, and is also packed with vitamins A, B6 and C, amino acids and lycopene. When your skin drinks it all up, it's left super hydrated and dewy.
Glow Recipe Watermelon Glow Sleeping Mask ($45; Sephora)
Farmhouse Fresh Watermelon Basil Vodkatini Sugar Scrub ($34; Dermstore)
Skinfood Freshmade Watermelon Mask ($13; Ulta)
Grown Alchemist Watermelon & Vanilla Lip Balm ($23; Net-A-Porter)
Kocostar Watermelon Slice Mask ($7; Neiman Marcus)
Bliss What a Melon Reviving & De-stressing Overnight Mask ($16; Bliss)
Pacifica Crystal Youth Gem Infused Face Lotion ($14; Pacifica Beauty)
Skinfix Online Only Watermelon Mint Lip Repair Balm ($5; Ulta)
Kiwi
Kiwi is the anti-aging skincare secret weapon. It has tons of vitamin C, which helps to fight dark spots from sun damage and aging nd the vitamin E in it, supports collagen prodution and fights free radical damage, which leads to younger-looking skin years down the road.
L'oréal Pure Sugar Scrub Purify & Unclog ($13; Ulta)
Saturday Skin Daily Dew Hydrating Essence Mist ($34; Sephora)
Innisfree It's Real Squeeze Mask Kiwi ($2; Inisfree)
Strawberry
Strawberry is your answer to problematic skin. Since they are naturally acidic, strawberries in skincare are perfect for removing excess sebum and oils on the skin, lightening dark spots, and healing acne scars. Plus, since they're rich in vitamin C, they also nourish and brighten skin.
Mario Badescu Strawberry Face Scrub ($15; Ulta)
Skinfood Black Sugar Strawberry Mask Wash Off ($12; Ulta)
Lano Lips 101 Ointment Strawberry Multi-Balm ($14; Ulta)
TonyMoly Strawberry Nose Pack ($4; Ulta)
TonyMoly Latte Art Strawberry Cream-in-Scrub ($18; Ulta)
Grapefruit
While not everyone is keen to a sour grapefruit for breakfast, this fiber-rich fruit is just what you need to make your skin glow. Rich in antioxidants and vitamins, applying grapefruit topically can provide an array of anti-aging benefits like a more even skin tone, brighter-looking skin, and it even works to fight off free radicals.
Yes To Grapefruit Vitamin C Booster ($13; Target)
Karuna Brightening+ Face Mask ($8; Sephora)
Peach Slices Citrus-Honey Aqua Glow ($12; Peach and Lily)
Burt's Bees Facial Cleansing Towelettes Pink Grapefruit ($6; Ulta)
Neutrogena Oil-Free Acne Wash Pink Grapefruit Foaming Scrub ($10; Ulta)
Avocado
Full of healthy fats, vitamins, and antioxidants, avocados are great for your skin. The nutrient-dense and creamy fruit (and yes, it's a fruit!) is packed with vitamins and minerals, including vitamin B, C, E and K, magnesium, potassium, beta-carotene, omega-3 fatty acids, and anti-aging antioxidants.
Freeman Feeling Beautiful Avocado & Oatmeal Facial Clay Mask ($5; Ulta)
Farmhouse Fresh Guac Star Soothing Avocado Hydration Mask ($22; Organic Skincare)
Kiehl's Since 1851 Creamy Eye Treatment With Avocado ($29; Kiehls)