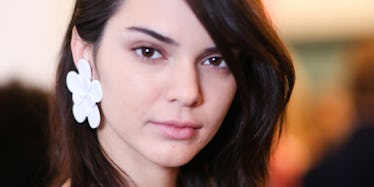 Kendall Jenner's Acne Mask Only Has Two Ingredients So You Can Make It, Too
REX/Shutterstock
Who wouldn't want the life-changing beauty secrets belonging to a world-famous supermodel? I mean, don't you want to be just as beautiful and freakin' flawless as Kendall Jenner is?!
The 20-year-old face of Estée Lauder is giving fans an inside look at her acne face mask she uses to balance her PH levels, shrink her pores and keep her face fresh and clean.
Kendall Jenner took to her official website to unleash the secret ingredients behind her acne face mask -- and there are only TWO ingredients.
Hmm, let me guess... diamonds and gold dust?! Not quite.
In a new post titled "Make Your Own (Easy!) Acne-Fighting Face Mask," Kendall reveals that she uses fresh juice from half of a lemon and one well-beaten egg white to create a mask she layers on her face for about 30 minutes.
Yeah, it's THAT easy. In addition to these DIY secrets, I'm sure having unlimited resources and access to the best doctors has something to do with it, too.
But these particular ingredients have been proven to help improve the appearance of your skin (so thanks, Kendall).
Kendall also offered up another DIY tip in case you're not a huge fan of acne masks. The 20-year-old star creates her own spot treatment using 1 teaspoon of honey, a half teaspoon of lemon juice and a half teaspoon of baking soda.
Once you mix that up, you apply the substance to the affected areas and BOOM -- blemishes, be gone!
Now, keep in mind, Kendall Jenner hasn't always been this perfect.
A while back, Kendall spent her days dealing with acne breakouts. Thanks to her simple DIY home remedies, breakouts are a thing of the past for Kenny...
And now, she's passing the torch to you.
Consider yourself a supermodel in training (or just someone who wants to achieve bright, clear, smooth skin once and for all).
Citations: Kendall Jenner's Acne-Fighting Secret Is in Your Kitchen (People)