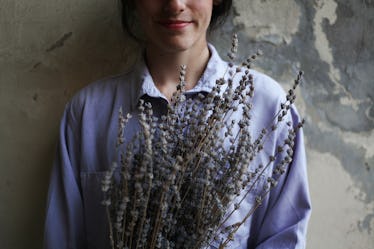 These 6 Lavender-Scented Products Are Exactly What You Need To Lull You To Sleep Tonight
While I've long known that the smell of lavender is thought to be one that promotes general relaxation, as someone who has long struggled with bouts of sleeplessness, I've often wondered, does lavender help you sleep in addition to helping you chill out? The answer is a definite yes, my friends. While lavender has been used in folk medicine for years, there are also multiple studies that support its legit sleep-promoting.
Lavender not only helps you sleep more soundly so you can wake up feeling more refreshed, it also helps promote what's called slow-wave sleep, which is a super deep state of sleep in which your muscles relax and your heart slows down. To say the least, lavender is a very powerful plant.
So, sure, while my childhood self tended to associate the smell of lavender with grandmas, as I've gotten older, the scent has definitely grown on me, to the point hwere it's become a regular staple in my relaxation and bedtime routine. In fact, lavender essential oil has even been making my dreams more intense!
So, if you need a little extra somethin' to help lull you into that deep and sound slumber you desperately crave, try using any one of these lavender-scented products during your next bedtime routine. Believe me when I say you won't regret it.