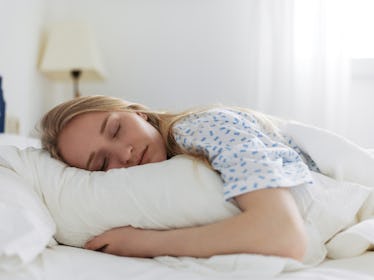 These Relaxing Essential Oils Need To Be Part Of Your Self-Care Routine Before You Go To Bed
There are so many quirky gimmicks and cosmetic potions out there that claim they'll soothe you, body and spirit, to sleep, but not everything that's advertised to keep you well-rested is all-natural. I won't get ahead of myself and recommend you never spend your hard-earned dollars on eye masks or luxurious lotions, but I encourage you to branch outside of Sephora for organic remedies, like essential oils that help you sleep, for example.
Now, when it comes things like essential oils, there are usually two different types of people: those who worship essential oils for their super powers, and those who are skeptical of them for their super new-agey, hippie-esque rap. People will often steer clear of using essential oils at all costs to avoid potential breakouts or inflammation, but any purported, negative side effects of these oils are normally triggered by sensitive skin or straight-up misuse. As long as you're reading ingredient lists and are aware of your skin type and health, you shouldn't have anything to worry about.
Now that we've got the dos and don'ts of essential oils out of the way, let's talk about their sleepy-time benefits — because if this doesn't persuade you that these are literally and figuratively an essential in the sack, I don't know what will. Yes, oils are beautifying, and they smell divine, but they can actually be extremely sedative, too.
Consider this beauty industry's best-kept secret spilled. Essential oils clear up acne, make your skin soft, and can also be used to lower high blood pressure, bring anxiety levels down a notch, and promote a good night's sleep. Can your cuddle buddy do that? Didn't think so.
Try any one of the essential oils below for a great night's sleep and a clear mind come morning.