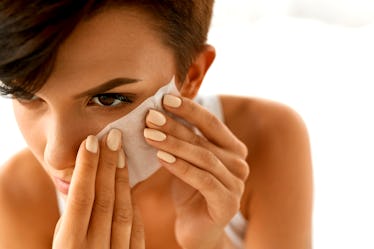 If Your Skin Gets Oily Throughout The Day, You'll Need These In Your Bag
by Kristin Collins Jackson
Oily skin may seem annoying when a shiny forehead seems to take center stage in your selfie, but its production actually plays an important role in our skin's vitality. So instead of ditching your moisturizer, try keeping a pack of the best blotting papers for oily skin on hand to absorb excess oil throughout the day.
The oil our skin produces is a mixture of lipids produced by our sebaceous glands called sebum. We need it to coat our hair and the surface of our skin, because it protects us from harmful pollutants that we interact with on a daily basis. Unfortunately, too much oil production can lead to breakouts, clogged pores, and blackheads, something about half the adult population deals with.
According to research done by the Department of Dermatology in the U.K., genetics may cause some of us to be more oily than others, and menstrual cycles often trigger breakouts since hormones stimulate the oil glands, too. Even things like dirty cell phones or glasses play a role. Still, drying out the skin isn't the solution, because it causes the pores to become tight and less efficient at protecting our complexions.
The good news is that blotting tissues can help maintain a healthy balance between too oily and too dry — so check out these eight highly-rated blotting papers that you can use to touch up unwanted shiny spots throughout the day.