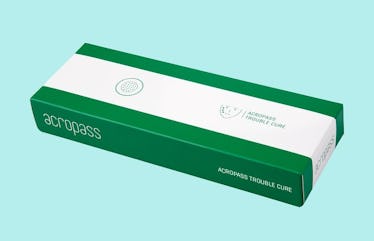 This New Acne Patch Features Painless Microneedles That Help Clear Cystic Breakouts
There's a new acne patch in town to help clear your most stubborn of spots, but unlike its predecessors this one was created specifically to target stubborn cystic breakouts. The Acropass Trouble Cure acne patch is unlike other patches in that it features technology that doesn't just sit on top of your skin but actually goes down into it which, if you've struggled with cystic acne, you know is imperative in clearing it.
Often caused by hormones, genetics, or a combination of the two, cystic acne is painful, deep, and frustratingly hard to clear. Topical acne treatments including toner, salicylic acid, and benzoyl peroxide can be relatively ineffective in clearing it; as Allure reports, "dermatologists say to really treat these blemishes, you'll have to go deeper." From oral antibiotics to cortisone injections, the ways to eradicate them are certainly not surface level.
Which is why K-beauty superstar Charlotte Cho, who founded beauty brand Soko Glam and has struggled with cystic acne for years, created the Acropass Trouble Cure. As Cho writes in a post on Instagram, "I have been holding my breath to share with you what I consider to be the latest #kbeautyinnovation from Acropass! And it works! It has personally helped me reduce hormonal acne breakouts and make them go away faster. As you know I have always struggled with cystic acne on my chin but this acne patch set has helped me target painful, cystic acne..."
Sounds like a skin miracle, right? The secret to the patch's success is its itty bitty microneedles that dissolve deep down into your skin and infuse blemishes with ingredients including hyaluronic acid, which helps keep skin moisturized throughout the process; niacinamide, which aids with microcirculation; and oligopeptide-76, a peptide that helps with collagen boosting. According to the product's description, these ingredients "dig deep into the blemish and attack bacteria and inflammation faster than other pimple patches." If this sounds aggressive, it is—but only in the best ways possible. Each microneedle is thinner than one-third the width of a hair, meaning the process is completely painless. Avoiding an oral prescription or uncomfortable injections via a small little patch? Count me in.
Before applying the patch you simply have to swab the pimple with salicylic acid and tea tree oil, which kill bacteria that causes acne, and then place the patch on the cleansed spot. Acropass recommends leaving the patch on for a minimum of two hours, as that's how long it will take for the microneedles to fully dissolve into skin. As explained to Allure by cosmetic chemist Ginger King, "For actives to work, enhanced penetration is important."
If these really work, which it sounds like they do, I can't wait to get my hands on some. You can currently buy a box of six swabs and six patches for $18 at Soko Glam's website, which is a small price to pay for healthy and painless skin. As Cho writes in the Instagram post, "Hormonal acne is a sore point for me since I turned 30 but this is something that surprisingly worked.... Infusing those hero ingredients into the site of inflammation goes back to the Korean philosophy of attacking acne with hydration and wound healing ingredients." She explains that these new patches are meant for only your most serious of pimples, continuing, "I recommend using these patches for the big, painful acne for more concentrated treatments and the regular pimple patches for the normal breakouts."
Beauty innovations like these make me so grateful about where the beauty industry is at today. While I think normalizing acne and recognizing that it's not ugly or something we should feel like we need to hide is so important, if the road to healthy skin can be a less painful and complex process I am all about it.