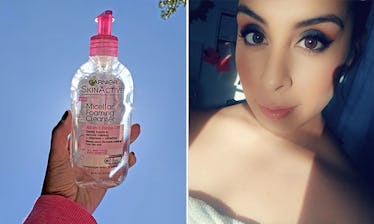 I Slept In A Full Face Of Makeup & This $7 Micellar Face Wash Ousted The Evidence
Stephanie Montes
I wore a ton of makeup last night and here's the kicker: I fell asleep in it. When I woke this morning with waterproof mascara casted onto my lashes and shimmer shadow under my eyes, I figured I was screwed. But this micellar water face wash review proves that you can always pretend a long night never happened, unless you Instagrammed about it, of course.
My night out started with quiet drinks on a rooftop restaurant in Los Angeles, and ended in a Hollywood studio decked out in all-things-marijuana themed for Milk Makeup's new Kush Mascara launch. I knew it was going to be a long night (though I didn't realize just how long), so I wore a ton of makeup and made it bulletproof. In honor of the 4/20 party, I wore a green shimmer eye shadow — the shade "Throne" from the Anastasia Beverly Hills Prism Eye Shadow Palette ($30; macys.com) — and topped off the look with a cat eye and two coats of MAC's In Extreme Dimension Waterproof Mascara ($24; nordstrom.com). For my face, I wore the high-coverage Huda Beauty #FauxFilter Foundation ($40; sephora.com) and set it with Urban Decay's All Nighter Long-Lasting Makeup Setting Spray ($32; sephora.com).
Needless to say, my makeup wasn't going anywhere.
Once I got to the Milk Makeup event, there were makeup stations set up to test the new mascara. I couldn't pass on the opportunity, so I sat in a chair and let a makeup artist pile on even more mascara to my already waterproof-coated lashes.
After a night of dancing, posing in photobooths, testing makeup, and eating munchies, I got home too exhausted to wash my face. I plopped myself in bed with a full face of makeup (which looked just as intact as it did when I left the house). I don't do this often, but sometimes I can't help it. And if it makes it any better, I felt guilty up until the moment I fell asleep. When I woke up this morning, I regretted not taking the time to splash some water on my face before I went to bed. I had eye shadow all over my eyes and my mascara was crunchy.
When it's this bad, just any old face wash won't get the job done — I usually end up with residue caked between my lashes and sticky soot under my eyes. I usually bust out the oil cleansers for this, because they can break down makeup so easily. However, you have to apply oil-based cleaners to a dry face, then add water to lather (if you apply it to a wet face, it completely negates their powers), which makes it difficult to use in a shower, and I already had the water running, so...
I've always been a fan of Garnier's SkinActive Micellar Cleansing Water ($7; target.com) but a while back, the brand created a face wash variety. According to the packaging, "micelles capture and lift away dirt, oil, and makeup without harsh rubbing or over-drying." I like micellar water and I like face wash, so I figure, why not give it a try?
I jumped in the shower, added two pumps of Garnier's SkinActive Micellar Foaming Face Wash ($7; target.com) into my hands, worked it into a foamy lather and rubbed it all over my face (and directly onto my eyes) for about a minute or so. I don't use a cleansing brush or sponge, but after rinsing, I noticed that there's nothing left on my face, not even all that mascara.
I pinched my lashes just to be sure, and there's zero residue. When I got out of the shower, I conducted a closer inspection in the mirror. My waterproof brow gel was gone. My face felt clean and I didn't even have the slightest bit of raccoon eyes. Kind of miraculous, no?
Now, I'm not saying that sleeping in your makeup is OK (that would make me a bad beauty editor), but this baby just earned a permanent spot on my tiny shower shelf, because you know, lazy-girl for life.