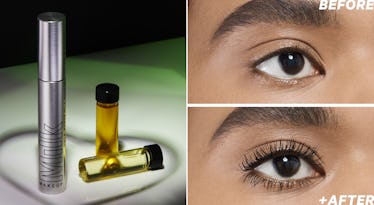 This Mascara Is Made With Cannabis Oil, So Get Ready For Super "High" Volume Lashes
Courtesy of Milk Makeup
I'm not here to tell anyone how they should or should not live their life. I can barely make sense of my own. Butt what I am here to tell you is that, if you do decide to (legally) blaze up from time to time, then you're seriously going to light up (ha, sorry) over a new product coming from Milk Makeup: Kush Mascara. But before you leave this page in a frenzy to go find it online, stay with me. It's not out just yet. So when does Milk Makeup Kush Mascara drop? Well, let's just say you can say "high" to it really soon.
OK, OK, OK, I'll lay off the dad-level puns for now. Anyway, Milk's innovative new Kush Mascara is made with conditioning, CBD-rich cannabis oil. Now, I know you're probably wondering, but no, cannabis oil in mascara won't have the same effect as smoking weed. The oil has no THC in it, so the only thing getting high after applying this mascara is the length of your lashes. No, seriously. Kush Mascara's formula, which, by the way, is 100 percent vegan, will actually help thicken and lift your lashes naturally, while still giving them an incredibly smooth-looking, clump-free appearance.
Essentially, cannabis oil works wonders for hydrating your lashes and giving them more volume, according to Milk, because it "fuses heart-shaped fibers to lashes." If, like me, you were a little confused as to WTF "heart-shaped fibers" are and why they matter, Milk has you covered. According to the brand, the all-natural, plant-based, heart-shaped fibers aren't as flaky as cylindrical fibers, meaning they'll "fall into place" nicely and give your lashes a full look. Plus, they're hollow, so when the formula hits 'em, you can expect even more voluminous lashes than ever.
The formula also contains poppy seed oil, sunflower seed oil, and cupuacu butter, all of which work together to nourish and moisturize your lashes, and it's completely vegan, cruelty-free, paraban-free, AND EVEN GLUTEN-FREE. To top off this high-quality product (LAST PUN, I SWEAR), its puffy applicator helps to lift the lashes, without making them a clumpy, flaking mess — even if you decide to layer up.
Currently, the Kush Mascara is set to be released on what is probably the most appropriate day for this type of product to drop: Friday, April 20. 4/20. I couldn't make this up if I tried. When the product does drop, you'll be able to find it on milkmakeup.com (obviously), as well as on sephora.com, and it'll retail for $24. You can also snag a tube from Sephora stores as well. In an ideal world, this product would be sold for $4.20, but alas, we can't have everything. However, just one look at the before-and-after photos of Kush Mascara on different models with different types of lashes and eye shapes will make you want to add it to your cart so fast, your wallet won't even know what happened.
If you're still a little skeptical about whether or not this mascara actually does what it says it'll do, let me throw some stats your way. In a consumer test of 21 women who tried out the Kush Mascara, Milk saw some pretty promising results. A whopping 90 percent of people tested walked away with both thicker lashes and lashes with greater lift. Even more, 95 percent of the subjects achieved super high volume lashes and longer lashes overall. As someone who's constantly trying to make my lashes as long as my hair (OK, not literally, but you get it), these results are pretty freaking convincing.
IDK about you guys, but with Kush Mascara coming, I'm thinking 4/20 is about to be more lit (OK, truly the last one) than usual.