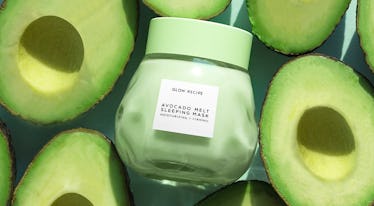 Glow Recipe's New Avocado Melt Sleeping Mask Is A Nourishing Dream For Dehydrated Winter Skin
After a cold, windy day, you can almost guarantee I'll opt for a cozy night in masking over a wild night out — winter weather stresses my skin to the max, so I'm always looking to treat and replenish my complexion however possible. Stocking up on heavy moisturizers and nourishing masks is a seasonal must for me, and I'm writing this Glow Recipe Avocado Melt Sleeping Mask review to let you know that there's a product out there that combines the best of both. Plus, the key ingredient happens to be one of my favorite toast toppings, so it's only right that I sing its praises.
At first glance, you might not expect the Avocado Melt Sleeping Mask ($45, sephora.com) in its little mint green jar to be a product in the Glow Recipe family, since up until now, the brand has been primarily known for their pink products. The Watermelon Glow Sleeping Mask ($45, glowrecipe.com) was their first major K-beauty hit, followed shortly after by the accompanying Watermelon Glow Pink Juice Moisturizer ($39, glowrecipe.com). While the brand has more to offer than their Glow line — the lilac Blueberry Bounce Gentle Cleanser ($34, glowrecipe.com) is Exhibit A — the pink products are definitely the first to come to mind, so I hadn't imagined that this new green, avocado-based mask would be the next soon-to-be cult favorite on their roster.
Many dubbed the Watermelon Glow range a lifesaver for summer skin, and I'm here to argue that the Avocado Melt Sleeping Mask is winter skin's equivalent savior, thanks to a formula that's jam-packed with only the best ingredients. Free of parabens, SLS, synthetic dyes, synthetic fragrances, and mineral oils, this mask is 74 percent avocado, which explains its ultra-creamy texture. Avocado fruit, extract, oil, and butter are all utilized so that skin can reap the superfood's nourishing benefits as dramatically as possible — after all, it's loaded with oleic and linoleic acids, which moisturize without clogging pores. Paired with avo is another foodie favorite, manuka honey, a favorite among acne-prone skin types that hydrates, firms, and protects skin from environmental stressors.
Even though avocado is the main focus, the non-food ingredients in this mask are what really win me over. As a major fan of alpha hydroxy acids, better known as AHAs, I was intrigued to learn more about the PHAs, or poly hydroxy acids, within this formula. Referred to on by the Glow Recipe site as "the gentle giant of chemical exfoliators," PHAs exfoliate and reveal fresh, glowy skin like other hydroxy acids do, but their large molecular structure makes them less harsh than their A and B counterparts, so they're the ideal acids for a mask meant to be left on all night long. Last but not least, the mask contains kaolin clay, a staple in many of the other clay masks on my shelf, to help balance pores and absorb excess oil.
Me, preparing to apply this mask as if spreading avocado atop toast:
I admit that when I first saw the tiny green jar, I instantly felt like I would use it up in a month. Even though it contained 80ML of product, it looked smaller than my other face mask containers as a result of the avo-like shape — however, I quickly realized that a little would go a long, long way. This mask is thiccc with three C's, people! I ended up only needed a third of the amount I scooped out to coat my entire face a generous layer. While "heavy" is the wrong word to describe the formula, I wouldn't exactly consider it lightweight. I definitely felt the product on my face as I went about the rest of my night routine, although it was definitely pillow-proof when it came time to hit the hay, and didn't stain or seep onto my white pillowcase.
A heavy mask might sound unpleasant, but it was actually quite the opposite. It felt like I was giving my skin the nourishment it needed, and after a cold day spent outside, my face had felt totally parched and patchy. There's nothing more frustrating than applying a product and not seeing or feeling any difference, and I could tell as soon as I applied this mask that I would wake up with softer, more supple skin.
Here's some photos of me pretending I'm not tired on a very early morning. Even though I was exhausted, my skin looked totally refreshed, and I didn't have to pack on as much foundation usual:
While I probably won't use this mask every single night, it will most definitely be my go-to for days when the winter weather has irritated my skin to the max. I can also see it quickly becoming a favorite on those nights when I know I'm destined to get little sleep — by applying this in advance, I can hopefully prevent waking up with a dull, tired complexion. Basically, if I look perky and glowy as I scarf down avocado toast at brunch on Sunday morning, you can safely assume that I slathered this mask on after leaving the bar on Saturday night. If you feel like a thiccc mask that really nourishes and replenishes is missing from your skincare routine, than I'd definitely recommend cutting back on avo toast for a few brunches so that you can splurge on this Glow Recipe mask instead.