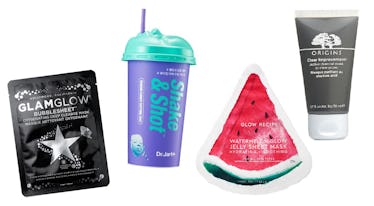 The 10 Best Face Masks From Sephora Under $20, So You Can Buy A Bunch Without Feeling Guilty
Sephora
Despite having a full cabinet devoted entirely to face masks, believe me when I say that I can almost always be enticed to pick up a few more. Good skin isn't cheap, though, and if I'm going to be tempted to regularly add to my masking collection, I need to make sure I'm getting my money's worth when it comes to my selections. As a result, I've done my research, and I've rounded up the top 10 best face masks from Sephora under $20, all of which guarantee luxe results at a reasonable pricepoint. TBH, chances are I'll buy so many myself that these will be sold out by the time you end up reading this, but just in case they come back in stock soon after, I thought I'd share my findings with the class. You're so welcome.
A major pro tip when it comes to masking on the cheap is to opt for sheet masks and other masks of the one-time-use variety, instead of investing in huge tubs of product. Doing so allows you to really explore the world of masking and try out new products until you find the ingredients that suit you best — only then can you justify splurging on masks that cost more than your entire makeup routine combined. In addition to sheet masks, travel-size tubes are also your friend for trying out luxe formulas for less, and you can often get quite a few great masking sessions out of seemingly small tubes.
Let's begin with a sampling of some sheet masks, shall we?
If you want a bougie brand and radiant, celeb-level skin, allow me to introduce you to the Tatcha Luminous Dewy Skin Sheet Mask ($12, sephora.com). Inspired by the brand's Luminous Dewy Skin Mist ($48, sephora.com), this mask is a cheaper alternative that guarantees that signature silky Tatcha glow plus the benefits of hydrating botanical oils. If you're feeling festive for fall, the Too Cool For School Pumpkin 24K Gold Sheet Mask ($8, sephora.com) is definitely the move, as it's chock full of pumpkin fruit extract and 24K gold and promises to leave you with a bright, nourished complexion. Catch me applying this one to revive my skin after I wreck it with my intense Halloween makeup. Finally, my wildcard sheet mask pick has to be the St. Tropez Tanning Essentials Self Tan Express Bronzing Sheet Mask ($9 sephora.com) which quite literally tans your skin in five to 15 minutes. The longer you leave it on, the tanner your complexion will be, and the more believable your lies about a fake tropical getaway will seem.
If you want my personal opinion, the very best sheet masks are the ones that bubble while they work:
Want the luxe, relaxing vibes of a full-on bubble bath, but struggling with the reality that your super small apartment doesn't even have a tub? Okay, maybe that's just me, but I digress: the point I'm getting at is that bubbling sheet masks are a major must-try. The GlamGlow Bubblesheet Oxygenating Deep Cleanse Mask ($9, sephora.com) is a fizzy, foaming mask that starts working as soon as it makes contact with your skin, utilizing Green Tea Teaoxi in the form of a micro-bubbling cleanser to really deep-clean and reveal fresh, glowy skin. Another favorite is the Sephora Collection Supermask: The Bubble Mask ($6, sephora.com) which also targets pores to detox and cleanse, only this one utilizes superfood ingredient spirulina to really purify the skin in just one 15-minute application.
BTW, if you've never tried a rubber mask, you're really missing out:
Oh, baby, I'm a sucker for a good rubbery, jelly mask. Consider these a must for super silly masking parties with friends, and ideal for sending out semi-creepy Snapchats while you're wearing them. The texture of these masks is what draws me in, but it's not all fun and games, as they deliver great results, too. The Dr. Jart+ Clear Skin Lover Rubber Mask ($12, sephora.com) is a great treatment that feels especially spa-like, since it's a two-step process that requires first massaging in a serum and then applying the cooling rubber mask to lock everything in. It's also a must for stressed skin that needs to be soothed and prepped to fight potential breakouts. Dr. Jart+ also have the Shake & Shot Rubber Smoothing Mask ($12, sephora.com) which has an even more unique application process that's totally DIY. To use this mask, you have to mix the provided Super Booster and Serum Ampoule until they create a blended mixture, which you then apply to the face before it dries down to a rubbery finish. It's technically a lot of work, but IMO, it's quite a bit of fun, if not a hot mess. For an easier application, the Glow Recipe Watermelon Glow Jelly Sheet Mask ($8, sephora.com) is a safe bet, with its cooling, rubber-like gel texture and ingredients to hydrate and de-puff. Plus, this one's definitely the go-to to prep your skin for full-glam makeup and selfies.
Last but not least, you can never go wrong with a hearty slathering of a more traditional clay face mask:
Seriously, who doesn't love a good clay mask? Funny enough, the first one I ever really fell in ~love~ with is also the perfect under-$20 pick, so you're welcome in advance. The Origins Clear Improvement Active Charcoal Mask To Clear Pores ($18, sephora.com) is certainly pricier than a one-use sheet mask, but that's because this travel-size item can be used multiple times, and a little goes a long way. If you want to purify and minimize the look of pesky, large pores, consider this your secret weapon. There's also the Sephora Collection Clay Mask line, my favorite of which is the Red Clay Mask ($8, sephora.com) which works to remedy tired-looking skin and give your complexion an energized boost. Plus, it comes in a four-use package, so you can always split it with some friends if you pulled an all-nighter and need to look well-rested fast.
Now that I've blessed you with all this info, my only wish is that you use it to the best of your ability and invest in the perfect mask for you, whether it be a bubbly sheet, a funky rubber DIY, or a classic, old-school clay. Happy masking!