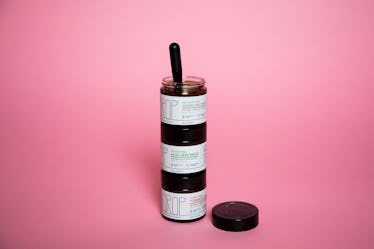 I Tried Crop's Line Of Organic Face Masks & My Pores Have Never Looked Clearer
Crop
As someone who is admittedly obsessed with skincare, face masks are an essential part of my weekly routine. Whether it's for a deep cleanse, hydration, or brightening, I try to do a mask at least two to three times every week or two, if my schedule permits. I recently discovered Australian beauty brand Crop and was intrigued by the range of masks it offered. But once I found out that the line was not only cruelty-free, but also sustainably sourced and vegan, I knew I had to do a Crop Face Mask review.
The line currently offers three options: the Detoxifying Charcoal Mask ($30, cropnatural.com), the Purifying Turmeric Mask ($30, cropnatural.com), and the Hydrating Aloe Vera Mask ($30, cropnatural.com). The brand also boasts a wealth of other skincare essentials, from eye serums and cleansing gels to toners and moisturizers.
Prior to testing out these products, I hadn't done a mask in a while. So I started out with the charcoal blend to clear out my pores — believe me, it was long overdue. This particular mask uses the charcoal to absorb dirt trapped deep down in the skin. The formula also includes bentonite clay, which can be a go-to solution for clearing acne fast; kakadu plum, which is rich in vitamin C, brightens the skin, and evens out skin tone over time; and green tea, which helps to control oil.
Before starting, I used micellar water and a gel cleanser to get rid of any dirt and oil on the surface of my skin. Then, I was ready to begin. Each mask comes with a spatula applicator, which makes applying the product a breeze and also ensures none of it goes to waste, without having to create a mess. First, I dipped the spatula in the jar to grab a good amount of product, then carefully applied it to my entire face, focusing on my nose, where I get most of my blackheads, and avoiding my eye and mouth area. I felt a slight tingling sensation at first, but it only lasted for about 30 seconds.
Crop recommends leaving the mask on for about 15 to 20 minutes, so I decided to watch an episode of Daria and let the product work its magic. After about five minutes, my skin started to feel tight, which is to be expected with a mask like this. Once 10 minutes passed, I noticed the product started to become translucent, which I hadn't really seen a charcoal mask do before.
Once the time was up, I paused the show and went to rinse my face with warm water. After doing so, my skin immediately felt smooth, soft, and refreshed. But what I was most impressed with was the fact that the product didn't leave my skin feeling dry. Seeing as aloe vera leaf juice (which I absolutely love) is the main ingredient, it makes sense that my skin still felt completely hydrated. I also took a close look at my nose area and could see that my pores definitely looked smaller and noticeably clearer. Overall, I'd give this first mask a five-star rating. It is truly one of the best charcoal products I've ever come across.
Next up was the Purifying Turmeric Mask, which I tried the following day. According to a brand statement, this product is best for reducing inflammation and redness, while also stimulating the skin's "natural healing process" with a blend of kaolin, macadamia oil, green tea extract, and rose flower oil. The formula also includes vitamin E and orange peel oil to soothe the skin. I'm currently not dealing with any inflammation or redness, so I wasn't expecting this mask to make much of a difference for my skin at the time. But since turmeric boasts some other great skin benefits, I decided to give it a go anyway.
I applied the mask using the same method I used for the first, making sure to thoroughly cleanse my skin beforehand. I didn't focus on any specific areas this time, but rather, I just slathered on a thin layer all over my face. I felt the same tingling sensation as I did with the first, but it subsided after 20 to 30 seconds. I decided to call one of my girlfriends as I waited for the recommended 20 minutes to pass by. Once again, I noticed the mask start to go translucent after about 10 minutes as it started to dry.
After I rinsed it off using warm water, my skin felt smooth and soft, but I didn't notice any major immediate changes like I did with the charcoal mask. Still, even if you don't deal with redness and inflammation regularly, this seems like a great mask to use every once in a while just to keep your skin balanced.
The final mask in the collection is the Hydrating Aloe Vera Mask, which I was very excited to try. I am a sucker for hydrating masks, and I also love using aloe straight from the plant onto my skin — so I had some high expectations for this product. The first thing that I noticed is that compared to the other two masks, this one had a more gel-like texture, similar to the consistency of The Body Shop's Ethiopian Honey Deep Nourishing Mask. On the brand's website, Crop suggests the mask provides "intense hydration" to thirsty cells by replenishing "lost moisture" and deeply cleansing, while also working to repair and soothe skin.
That sounded solid to me. But once I applied the mask to my face, within five to 10 minutes, I noticed it was starting to harden, and my skin felt tight. I was a little confused, since I typically use non-drying masks when I'm looking for hydration. Still, I kept it on for about 20 minutes and then went to the washroom to rinse it off. Once the mask was off, my skin did feel noticeably softer, but it honestly didn't feel as hydrated as I would have liked. Regardless, this product has so many amazing and organic ingredients — such as aloe vera leaf juice, vitamin E, witch hazel, and kakadu plum — that I would still use regularly to keep my skin looking healthy.
Overall, I'd say theses masks are definitely worth it, but I'd stick to using one or two specifically that make sense for your skincare needs. Above all else, though, I love that these are certified organic products, and they're also cruelty-free. There's nothing better than finding a line that makes your skin feel good and that's great for the planet as well!