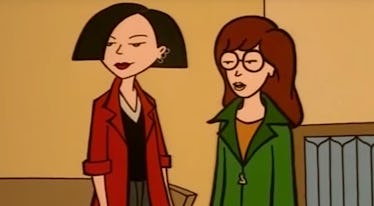 A 'Daria' Reboot Is Happening & It Is Exactly What We All Need Right Now
MTV
It has been over 15 years since Daria Morgendorffer unleashed her last icily deadpan sarcastic comment, but the iconic cartoon character that has come to define teenage derision is about to make her comeback. MTV just announced that a Daria reboot is happening, per The Hollywood Reporter, and that is not the only beloved show that MTV is rebooting.
After rebooting TRL and Jersey Shore this year, MTV president Chris McCarthy said that the network has even more plans for bringing its old shows back to life. The young adult-focused network is launching a production company called MTV Studios that is commissioning and pitching rebooted versions of the brand's classic series to streaming networks like Netflix, Amazon, and Hulu. The three reboots that MTV Studios is working on right now are Daria, The Real World, and Made.
The new Daria series is entitled Daria & Jodie, and as the name suggests, it will promote Daria's ambitious friend Jodie Landon from the original series to a main character in the reboot, as the two women critique the world with their signature satirical voices. The new series is being scripted by Grace Edwards, who has written for comedies including Unbreakable Kimmy Schmidt and Inside Amy Schumer in the past. While the exact plot of the new Daria reboot is still being kept under wraps, Chris McCarthy did say that one of the reasons MTV was interested in rebooting the show is because Edwards' vision included the characters tackling hot-button issues that are affecting our current culture.
We brought on Grace Edwards as the writer and she is a huge fan of Daria. The story she wants to tell of Daria is different, it's about Daria and Jodie and two close friends taking on the world today and what's happening in our culture at large.
Daria originally aired on MTV for five seasons from 1997 to 2002, as a spin-off of the network's other cult hit animated series Beavis and Butt-Head. The series chronicled the life of Daria Morgendorffer, a cynical and misanthropic teenager in the suburban town of Lawndale, who is constantly critiquing the world around her. Oftentimes, Daria's underhanded sarcasm goes undetected by the people she dislikes, but she is able to bond with fellow outcasts like her aspiring artist best friend Jane Lane.
Along with a Daria reboot, MTV is also working on revival series for two of its best known unscripted shows: Made and The Real World. Although Made ran up until 2014, its real heyday was after it first premiered in 2003 and throughout the mid-2000s. The docu-series followed a different teenage with a difficult but attainable dream in each episode, helping each subject reach their goal with the aid of expert coaches.
The Real World is technically not a cancelled series, although it has not aired since its most recent 32nd season in Seattle concluded at the beginning of 2017. But the revival series is different in that it is being shopped to streaming networks alongside Daria and Made, rather than actually airing on MTV. Over its nearly three-decade history, The Real World has established itself as the definite documentary-style reality show, as it films a group of eclectic strangers who live together for a period of time.
Since they are all in their early stages, there is no word yet on when fans can expect the reboots of Daria, Made, or The Real World to begin airing... or even where the shows will be airing. MTV's focus in shopping the shows is clearly on streaming networks, so we might very well be seeing Daria in our Netflix queues pretty soon.