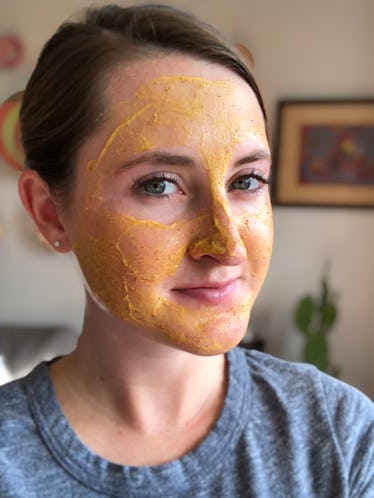 I Tried 6 Different Pumpkin Face Masks & This Glow Is Anything But Basic
Courtesy of Daley Quinn
One of my greatest fears is being called "basic," but it's that exact word I'd use to describe my obsession with fall. My never ending love for pumpkin-spiced lattes, pumpkin pie, and pumpkin carvings was even more indulged when I spent a week testing (and eating — but more on that later) fall-themed skincare for the ultimate pumpkin face masks review. Sit back, relax, and prepare for your not-so-basic foray into serious gourd skincare.
Fall is my favorite time of year, not only because it's my birthday season, but also because it's the season of new beginnings (and I'm always down for any excuse to make me feel better about my bad summertime decisions). Thanksgivings at Grandma's were some of my fondest memories, when 60-plus aunts, uncles, and cousins (my Irish father is the youngest of 10!) would cram into Nana's house and fight over whose pie was the most delicious. Halloween has always been the perfect night for reinvention, and apple-picking just never seems to get old. The stunning scenes of multi-colored leaves will always be my favorite part, and it's this incredible season that inspired me to dedicate a whole post on fall-themed face masks.
Not only do they smell divine, but pumpkin masks have many skin benefits, too. "Pumpkin is an antioxidant and has great anti-inflammatory effects on the skin," says Mona Gohara, MD, a Danbury, Connecticut, dermatologist. "It's also able to protect against the damaging effects of UV light by protecting against free radicals."
While a lot of the pumpkin masks I tried were considered exfoliating, a few others offered major moisture that I wasn't expecting, especially since pumpkin enzyme is known to slough away dead skin. See below for the six pumpkin face masks that got me glowing like a jack-o-lantern. (Sorry, I couldn't resist.)
I really love this organic skincare brand, and have tried multiple Eminence products after receiving the best facial of my life from Brian Goodwin, the brand's international educator. The pumpkin-scent is pleasant and not overwhelming, but the texture is what really surprised me.
Formulated with pumpkin puree, pineapple pulp, and orange pulp, this mask felt like I was literally applying pumpkin pie filling right onto my skin—I loved the light and fluffy texture. Similar to other masks that I've tried from Eminence, this one offered an intense tingling sensation, and left my sensitive skin pretty red.
I personally love using masks that turn my skin red (because then I know they're actually doing something), but if that's something that freaks you out, or if you have super sensitive skin, I would avoid.
OK, I don't know what exactly happened with this mask, but when I unboxed it and opened up the cap, I felt a sudden and intense urge to taste the product. And that's exactly what I did. I stuck my finger into the jar and put it into my mouth. It was one of the weirdest things I've ever done with a beauty product and I'll never do it again (FYI, it didn't really taste like anything, in case you were wondering).
This mask felt light on my skin, and I liked the slight tingle it made upon application. After I removed it, I remember saying to myself, "Wow, my post-acne inflammation basically disappeared."
And then I realized that this mask (and the whole Banish line) is dedicated to fighting acne. It certainly delivered!
In terms of scent, this mask was definitely my favorite. It had a spicier pumpkin fragrance, and it reminded me more of a sexy pumpkin candle than a sweet pumpkin pie.
This pick was one of the more gentle masks of the bunch, and I'd say it's safe to use multiple times a week.
It's infused with 5 percent lactic acid to help fade dark spots, and super smooth and not fluffy or chunky.
This mask was unlike any of the others I tried for multiple reasons. First, it's a sleeping mask, meaning you apply it at night and wash it off the next morning.
Second, it smells nothing like pumpkins. And third, this formula isn't orange, is very smooth and comes out relatively clear. It's hard to even compare this pick to the rest, because it offered so much hydration and little exfoliating benefits.
I woke up with baby soft skin and felt like I didn't even need any moisturizer that day.
I love that this mask comes in a cool tube, and the packaging is so chic.
The Summer Fridays Overtime Mask was the only mask I tried with exfoliating beads (which turn out to be apricot seed powder) to physically slough away skin.
With a light pumpkin scent, this mask honestly made my skin feel more hydrated than exfoliated, and I certainly wasn't hating that.
With a super subtle pumpkin scent, this mask also made my skin a bit red after leaving it on for 10 minutes.
I love that is contains glycolic acid, which really boosts its exfoliating properties and helps to remove dead skin and impurities.
The most affordable of the bunch, I would definitely recommend this to someone looking for an effective brightening mask without the hefty price tag.