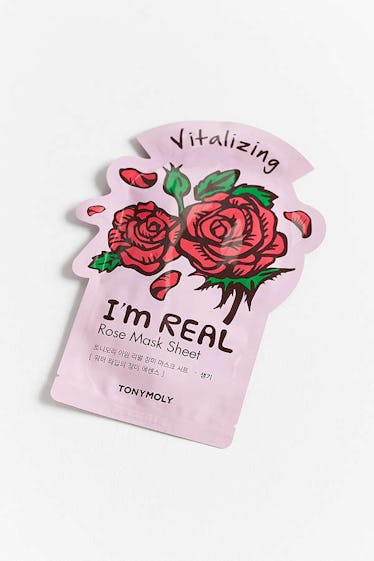 7 Face Masks Under $10, Because The Only Winter Flakes I Want To See Are Snowflakes
Tony Moly
Wintertime skin is the absolute worst. If you're anything like me, your dewy complexion of summer days past turns into a flaky, red, irritated mess. Which is why I looked into the best face masks under $10 to help soothe all of my dull skin woes. And believe me, I direly need them right now.
I recently ventured to North Carolina to visit my sister and baby niece, and I'm not sure if it was the plane rides, the cold air, or what, but my skin was WRECKED. I broke out like crazy, tried to heal said breakouts with my prescription topical acne medication (I use Epiduo and it's usually a godsend). I probably applied a bit too much of it, though, and I ended up with a full face of flakes. Not a good look for me, and no amount of lotion or face oil was up for healing my skin. You know those miniature Christmas villages that people set up as holiday decorations? I could probably have saved someone from buying fake powdered snow for their entire set-up, if you catch my drift. Hahahah...gross. Why am I single, again?
Anyways, I'm glad to say that my dermal crises is in its healing stages, thanks to a lot of exfoliation, moisturizer, and face masks. From Japanese sheet masks to soothing clays, I used everything I could get my hands on to detox and hydrate the eff out of my poor skin. And it worked. Ah, the power of a good product.
Knowing that my skin woes are pretty common among everyone in winter, I looked into the best face masks of all types that come in at a very reasonable $10 or less, because clear, glowy skin shouldn't cost you an arm and a leg.
The Redness Reducing Rose Mask
Tony Moly is a brand out of South Korea, the country that's basically synonymous with top-notch skincare. Automatically, that makes me believe in these cute, affordable sheet masks. They come in an array of varieties: This rose one will help reduce redness and inflammation.
The Purifying Charcoal Mask
2017 was the year of all things charcoal. And rightly so! For skin, activated charcoal can help draw bacteria, chemicals, dirt and other impurities out of your skin. This single-serve mask was specifically made to combat oiliness, dullness, and clogged pores. Check, check, and check.
The Calming (And Adorably Packaged!) Mask
Called Soothing Energy, the yellow version of this mask (it also comes in Aqua Energy and Wrinkle Energy), is meant to calm and refresh sensitive skin. If I could go back in time, I'd slap this on the second I got back from North Carolina to my New York City apartment.
The Ultra Oxygenating Mask
Upon putting it onto your face, this carbonated sheet mask starts to foam and fizz ― you can almost feel the impurities melting away from your skin. Aside from its oxygenating qualities, the mask also boasts a bamboo charcoal cloth, meaning it packs a double detoxifying punch.
The Luxe DIY Mask
This is a two-step mask that will make your bed feel like a luxury spa. You mix it together at home with a provided little kit, and are supposed to leave it on for 20-30 minutes, which is much longer than most other masks. It's a combination of charcoal power and charcoal liquid, which is meant to purify and nourish your skin. Plus, it looks luxe AF.
The Slimy Snail Mask
This cotton sheet mask is soaked in ― wait for it ― snail mucin. Yes, it sounds absolutely gross, and yes, it is as slimy as you'd imagine. But trust me when I tell you that it hydrates the hell out of dry skin. There's also bee venom extract in this particular mask, which helps improve tone and texture. It's certainly not for the vegan beauty girl, but man does it work.
The Acne-Fighting Clay Mask
When I read that Riverdale's Lili Reinhart uses this mask, I knew it had to be good. Her skin is absolutely flawless (as is her hair, for that matter), and she posted on her Snapchat that this clay helps with cystic acne, which my skin is prone to. At $8, it's a celeb-approved steal.