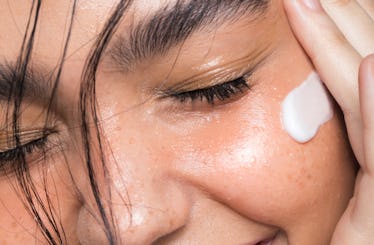 The Snooze-Hitter's 10-Minute Morning Guide To Glowy Skin
svetikd/E+/Getty Images
You're in bed. Your alarm goes off. You hit snooze. It goes off again. You snooze it. Suddenly, you jolt up out of your sleep and realize you've already overslept by an hour. I feel the pain. So, for all my snooze hitters out there, here's your 10-minute guide to glowing skin in the morning, so you can look awake when you'd rather be in bed.
I still have nightmares about the first time I forgot to set my alarm for work. I woke up 40 minutes before I had to be at my destination (I live over 30 minutes away, in case you were wondering). At the time, I was unprepared. I didn't have a list of go-to, multitasking products that would get the job done in a flash. So instead, I threw all of my products in a bag and did my makeup on the subway. On the subway. In New York City. The grossest, most germ-y possible location for makeup application. Have your ever tried applying anything with accuracy on a moving train car? It's not fun, let me tell you.
But my mistake led to innovation, as many mistakes do. Now, I have my ten-minute routine down to a science. I know which products work for me and which items will make me like I slept more than I actually did. With the right products and a quick, 10-minute application, you can conceal the fact that you hit your snooze button approximately five more times than you should have.
Micellar Water
So here's the deal. Do you have to wash your face in the morning? Not necessarily. Your spontaneity won't spontaneously combust in a fit of zits if you forget your favorite cleanser. But if you're prone to breakouts, dryness, or excessive oiliness (like myself), it's a very good idea.
Of course, splashing your face with water will help in a pinch. But, if you have 10 extra seconds, you'll get more benefit from using a micellar water, like Garnier SkinActive Micellar Cleansing Water All-in-1 Cleanser & Makeup Remover ($9; ulta.com). Micellar waters add hydration to the skin, which will quench the thirst for those with dry skin and prevent naturally oily skin from overproducing oil throughout the day. Plus, the micelle molecules will quickly pull dirt and debris out of the skin, leaving you squeaky clean in seconds. Just squeeze a few drops onto a cotton round, rub all over your face, and watch the cotton turn grey from dirt and dead skin cells. Yum.
Moisturizer
If you have dry skin, it's pretty clear why you need more hydration. But those with oily skin need to quench their thirst, too. If you don't hydrate in the morning, you run the risk of your oil overproducing itself, trying to moisturize your skin on its own. The result can be a hot, greasy mess.
But fear not, for FAB is here. This bomb AF First Aid Beauty Hello FAB Coconut Skin Smoothie Priming Moisturizer (sephora.com; $28) will combine three steps of your routine into one. It hydrates, it primes, and it luminizes for that glowing, locked-and-loaded, long-wearing look.
Just warm a pea-sized amount onto the pads of your fingers, and press into the skin, starting at the center of the face and working outward.
CC Cream
Seriously, on my "OMG I'm going be be late to work" days, I'm not trying to spend 10 hours doing 10,000 steps. So my products need to provide the maximum bang for my buck.
I swear by this It Cosmetics Your Skin But Better™ CC+Illumination™ Cream with SPF 50+ (sephora.com; $38). It will cover everything, from the deepest dark spot to that lie you told your best friend when she asked if you had plans and you said yes even though those plans were binge-watching Riverdale on Netflix and eating popcorn slathered in Nutella (aka my average Friday night). Plus, it also illuminates the skin because I don't want to just glow. I want to be so reflective that my haters can see their own bitter faces in my highlight. And it has SPF. You're welcome.
You can totally use your fingers to apply this product, but, if you need intense coverage in a pinch, I actually recommend using a brush. Synthetic foundation brushes can't hold on to product, they can only push that CC cream back onto your face, building up coverage quickly and easily. Fingers are very porous and tend to sheer-out product, which is great if you want a more natural coverage, but not so great if you're trying to cover a pimple.
Concealer
Dude. The Smashbox Camera Ready BB Cream Eyes Broad Spectrum SPF 15 (sephora.com; $25) is my lifesaver. It has a brush applicator (score!) and the perfect amount of concealer coverage. It also works as an eye cream! Not only will it cover darkness and alleviate puffiness, but it will also work to reduce them over time.
Plus, it's perfect for touchups. I throw it in my purse and just apply it to any areas of my face where my foundation wears off or my liner runs throughout the day. No muss, no fuss.
Multistick
I have had numerous friends, models, and celebs try to steal this product from me at various events and shoots. It's the perfect no-makeup makeup, barely there flush. Just draw a big swipe of the Milk Makeup Lip + Cheek (sephora.com; $24) in your chosen hue on to the apple of your cheek and blend up and out with your fingers. The color may look intense in the packaging, but it applies as a sheer wash of natural flush. It's one of the only cheek tints I've found that gives a glossy glow but actually stays on for hours.
I use it as my lip stain, too. If you're on the go, just lightly press your pout against the product, and blot you lips together. It's just gorgeous.
Setting And Blotting Powder
If your concealer creases, or if your skin is oily, then powder is a must. This CoverFX Blotting Powder (sephora.com; $24) will keep you covered for all-day wear. Simply saturate the provided spongy puff with powder and press it into the areas where your makeup is more likely to shift throughout the day. Even though it's translucent, it still comes in three colors so you won't see any orange or grey mystery tones appearing on the skin throughout the day. Pro tip: throw this in your bag to touch up your hot spots before you meet up with your friends for a sensible venting sesh after work.
Bronzer
My face is round and relatively flat, so naturally, I'm addicted to contour. But on my rushed mornings, I don't have time to commit to my intense sculpting routine. Instead, I apply this YouTube favorite, the Physicians Formula Murumuru Butter Bronzer (ulta.com, $14.99) in a big three and E motion around the perimeter of my face. Though it won't necessarily help my hollows to recede more, it will give me a little color and some dimension.
I also have been #blessed with hooded eyes so, on my tired, stressed-out days, I look even more like a zombie. That's when I take a fluffy eyeshadow brush and, looking straight ahead, I buff the bronzer into my crease like a transition shadow. This gives my eye a little extra lift and makes it look like I actually got the proper amount of beauty sleep.
Illuminator
We're really glow-getters today. The more I glow, the less people will know that I stayed up till 4 in the morning binge-watching the second season of Haters Back Off. You all know about Becca's illuminating powders. Well, I'm here to tell you about her little sister, the Becca Shimmering Skin Perfector® Poured Crème Highlighter (sephora.com, $38). Just tap this product onto the high points of the face (where you don't get oily or sweaty, of course) and be prepared to shine like the star you are.
I also dab a tiny bit onto the center of my lid. The brighter hue and light-reflecting power make my eyes look wide awake. It's like Starbucks for your face.
Brow Gel
We do not have time to open our Anastasia Beverly Hills Dipbrow™ (sephora.com; $18) today. I repeat, do not even try it. You know it will take 10 years and you will be late for work or your wedding or whatever it is you're late for.
Instead, use LASHFOOD's BROWFOOD Tinted Brow Enhancing Gelfix (sephora.com; $24). The spoolie has long bristles on one side for combing hair into place and short bristles on the other side for defining areas with less hair. Plus, it also contains peptides to support your brow hair follicles and promote growth. Multitasking at its finest.
For a fuller brow effect, backcomb hair before laying it down into place. This will allow the product to coat the entire hair strand for a more defined look.
Mascara
Let's be real, we all know mascara is a non-negotiable. It takes me from naked mole rat to real live human being in seconds. Since I skip liner on my hectic mornings, I rely on a volumizing mascara to give me a little extra definition at the lashline. L'Oreal Voluminous Lash Paradise Mascara (ulta.com; $10) has been a beauty guru fave as of late, noted for its length and generous volume.
Wiggle your brush at the base of the lashes, almost like a toothbrush, then comb through to the tip of the lash strand. This will give you the volume where you want it most, with minimal clumping.
What are you doing still reading this article? Go get ready! You're already late, remember?