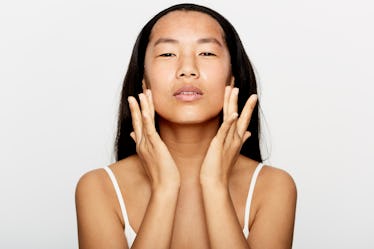 7 Little Ways To Take Care Of Your Skin That Won't Make Your Routine More Annoying
If you have any kind of trouble with your skin, the process of a good skincare routine and finding the right (priced) skincare products is a real feat. Just wading through all the peels, exfoliants, masks, moisturizers, and acids on the market is enough to make a girl throw in the skincare towel all together. But luckily, there are little ways to take care of your skin that don't make your routine more annoying, and don't force you to take on 10 extra steps each morning or a gazillion products.
Yes, some things are best left simple, since that's usually how most of us can keep up with a new routine anyway. And listen, if you're struggling with skincare, trust that you aren't alone. Did you know that 60 million Americans deal with acne? And a whopping 80 percent of that number includes women (myself among that percentage)? That's a lot of us who think about the care and keeping of the largest organ on our body.
So, if you are a little overwhelmed at the plethora of multi-step skincare tips that are out there on the internet, just stay calm. Elite Daily talked to skincare experts who reveal easy and practical habits that will ensure clear skin and a healthier glow.