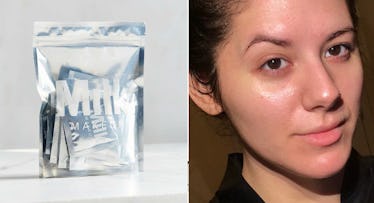 This On-The-Go Skincare Routine Will Get Your Skin Glowing — Even When You Shack
Milk Makeup/Kim Carpluk
When starting a new relationship, there are a lot of important things to consider: Should I reveal all my baggage upfront? When should we have the Define The Relationship talk? And what's an easy skincare routine that doesn't require a 10-pound bag of beauty products?
We've all been there. There's a time when we must stop pretending that sleeping without washing our faces is a good look. Yes, we want adorable baes to keep us warm at night, but we also don't want to cause unnecessary blemishes and texture on the delicate, sensitive AF landscape of our skin. So as much as you don't want to, you're going to need to peel yourself out of bed, march on over to the bathroom, brush your teeth, and do a sensible, simple skincare routine.
You might be dating a boy or girl who has a fantastic daily skincare routine, in which case, bless! Simply use their promising products to your heart's content (after you ask them for permission, of course). If you haven't been so lucky, like myself, and your date's bathroom only contains a half-used bottle of Clean & Clear Morning Burst Facial Cleanser ($6; Target) and no moisturizer what so ever, then you might need to come a bit more... prepared.
These multi-use, travel-friend products will make your life much easier and, trust me, your skin will thank you.
Take Off Your Makeup
If you wear makeup on the daily, then you know a basic cleanser won't break down your makeup. TBH, washing your face with a regular cleanser without removing your makeup is like jumping in the shower with your clothes on. It just won't be able to do it's job.
So ya got two options, kid. The first is a sensible travel-package of wipes. Wipes are not my favorite overall for removing makeup (they don't remove as thoroughly as most makeup breakup cleansers), but they certainly get the job done in a pinch. They're much less likely to explode inside your gorgeous date night bag. Plus, tinier travel-size packages won't weigh you down during your date. I suggest the Neutrogena Makeup Remover Cleansing Towelettes Travel Size ($2; Target) and the Milk Makeup Micellar Water Makeup Remover Wipes Mini ($14; sephora). The former has a price tag that's to die for, but the later contains wipes that are individually wrapped! When I'm taking the necessities with me, tiny, simple packaging is key.
Removing your makeup is a non-negotiable step. Over night, your skin regenerates at a more rapid rate. Your body pushes toxins to the surface and sloughs off dead skin, revealing baby skin underneath. However, when you sleep with your makeup on, dead skin cells and bacteria get trapped under your beat, resulting in uneven texture and potentially broken out skin.
If you don't wear makeup daily, then glam! Your life is a little bit easier. Please proceed to the next step.
Opt For Minis
Whenever I get samples or trial-size versions of products, I save them in a toiletry bag specifically for use during travel. If you don't have a stash of fun size products in a drawer somewhere at home, it might be worth investing in an all-inclusive skincare kit for your date night needs.
Of course, you don't want to be in the bathroom for 15 years, leading your date to think you somehow escaped or, worse, are having some sort of bathroom emergency, so keep your skincare steps streamlined and simple. To maintain your skin, you're going to need a cleanser and a moisturizer. Toners and serums you can add in based on necessity/your ability to apply products quickly. Skin Laundry's On-The-Go Kit $28; Sephora) boasts a foaming cleanser, a sheet mask, and an SPF moisturizer for the next morning.
If you're a bit more bougie (or have super sensitive skin), the Ole Henrikesen Traveling Wonders Travel Set ($48; Sephora) might tickle your fancy. This super-active kit comes with minis of The Clean Truth Foaming Cleanser, Truth Serum, Sheer Transformation Perfecting Moisturizer, Invigorating Night Transformation Gel, and the Uplifting Transformation Eye Gel. That way, you won't have to sacrifice results for sexy times.
Lip Balm Is A Necessity
After making out for a long time, your lips might feel a little raw. To prevent them from getting chapped the next day, apply a sensible lip balm and save yourself the trouble.
I personally love the Bite Agave Lip Mask ($26; Sephora). At night, you can apply a thick layer to help your lips repair faster. Lanolin locks waterproofs your lips and prevents the hydration from escaping, while jojoba oil hydrates the skin from the inside out. Sometimes, I'll even apply this product to chapped skin on my face and hands. In a pinch, it hydrates and helps to heal there too.
Extra added bonus: this mask is food grade and tastes delicious so if you accidentally make out after you've applied it, no worries!
Don't Forget These Important Add-Ons
OK, so these items are not necessarily skincare, but they are beauty related and super important for post-date nighttime routines.
Get yourself a great travel toothbrush. This G-U-M Folding Travel Toothbrush Two-Pack ($3; Walgreens) makes throwing your toothbrush into your tiny travel bag super easy. You won't accidentally stab yourself on the handle as you're rummaging through your toiletry pouch. Naturally, you'll want a travel size Colgate Total Toothpaste ($2; Walgreens) as well.
To manage overnight oil, Batiste Dry Shampoo On The Go Size ($4; Walgreens) does the trick. Instead of bringing a massive hairbrush with you, opt for something tinier and compact, like the Tangle Teaser ($15; Sephora). It's small, but mighty.
To make sure you smell good after... strenuous activity, deodorant is always an option. TBH I always keep a travel size Secret Powder Fresh Invisible Solid Deodorant ($2; Walmart) in my purse. I've also been tossing some single use fragrance wipes from the Pinrose Best Travel Perfume Ever set ($24; Pinrose). That way, I can smell fly AF without even carrying a rollerball with me. These fragrance petals are individually wrapped and contain a single use cloth that you can swipe on the areas you want to apply perfume.
See? You don't have to sacrifice your nighttime routine for sexy post-date sleepovers. Now you can have the best of both worlds.