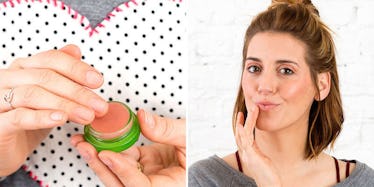 You're Actually Supposed To Wear These Makeup Products To Bed
We've all had nights when waking up a mess was not an option. Whether you're in a new dating situation or have to go to work extra early, rolling out of bed with a fresh face is the goal.
Waking up with flawless makeup, though, is a dream. It's awful for your skin to not wash your face and sleep with cosmetics on.  Recently, though, I came across a beauty balm designed specifically for wearing in bed. At that moment, it hit me: What other makeup goods are OK to sleep in those few nights it's necessary?
I found them, tried them and am now passing them on to you!
This before-bed beauty routine is so easy. Five products, five minutes and you can do it without any advanced makeup skills. Just make sure you've cleansed and prepped your face for makeup like you'd normally do.
This time around, put on your pajamas before you do your makeup.
Step 1: Apply a light base to brighten your skin.
BB Night Beauty Balm, $38, Sephora 
Designed to brighten and hydrate your skin day or night, this BB beauty balm will have you waking up feeling extremely refreshed -- even if you didn't get a full eight hours of beauty sleep.
It comes in different self-adjusting hues that even out your skin tone while you snooze, so you roll out of bed with foundation already in place.
To apply, squeeze a small amount onto the back of your hand and blend over your face evenly with your fingers. If the rest of these steps are of no interest to you, this alone can achieve desirable results.
Step 2: Contour and hydrate with a coconut-infused bronzer.
Bronzer Stick, $34, TrèStique
This combination cream-and-gel bronzer stick, made from hydrating ingredients like coconut oil, should be your go-to when you're hoping to define your features.
To apply, paint the stick onto the sides of your nose, along your hairline, in the hollows of your cheeks. Add a touch directly under your lower lip and down your jawline.
Blend with a slightly damp BeautyBlender by tapping the sponge over the makeup. This "stippling" will give you a more natural look as you press the product into your skin, helping it last through the night.
Beauty Blender, $20, Amazon
Step 3: Add a pop of color to your lips with a pretty pink tint.
Volumizing Lip & Cheek Tint, $36, Sephora 
This 100 percent, all-natural, non-toxic formula is designed to treat, moisturize and plump your skin with sexy ingredients like Spanish lavender.
Apply to the apples of your cheeks, the creases of your eyelids and to your lips. To blend, gently tap your finger to press the cream blush into your skin.
Step 4: Set up a morning smudgy eye.
Emphaseyes High Definition Pencil, $19, Tarte
The active ingredients in this eye pencil are palm oil, vitamins A and E, antioxidants and aloe leaf extract, which can act as treatments for your eye area. Another bonus is this slim design. You can more easily apply a precise line that can get that slightly smudgy smolder while you sleep on it.
Mascara, optional.
Tarte Lights, Camera, Splashes Waterproof Mascara, $23, Sephora 
Bonus: "Pineapple" your hair for amazing beachy waves in the morning.
Put your hair up in your version of the pineapple technique and shake your hair out the next morning to reveal slightly wavy tousled locks.
Simple. As. That.