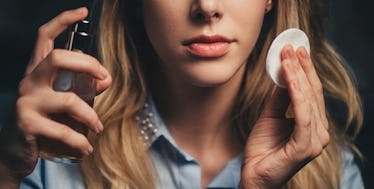 5 Anti-Aging Products To Use In Your 20s So You Look Amazing In Your 30s
This is a message from The Ghost Of Skin Care Future, so listen up.
Place one hand on your face. You feel how tight your skin is?
You have about 10 more years before that skin starts to feel like a loose sweater.
Am I trying to scare you? Yes.
Fear of death is an excellent motivator, and you're closer to it every day. So, get on that skin care regimen now before it's too late.
Here are some of the fundamental anti-aging products you should be using in your 20s so you'll look amazing in your 30s and beyond:
SPF 30 or higher
I can't emphasize it enough, you guys.
Protecting your face, neck and chest from the harmful effects of sun damage, both during the summer and winter months, is so important for long-term skin care.
I never wore SPF during my 20s, and trying to play catch-up has been a nightmare. I don't have a lot of regrets, but this is one.
It's so much easier to make this a habit in your 20s than dealing with the SPF paranoia that sets in during your 30s.
This applies to you even if you don't spend a ton of time lying out in the sun. Although I never spent a ton of time tanning, by the time I tuned 30, I could see the effects of sun damage on my face in the form of uneven skin tone and the formation of fine lines.
If you have trouble remembering to put in on, get yourself a BB cream with SPF in it (my fave is by Marcelle) so it's just part of your makeup routine, and you don't have to think about it.
Marcelle BB Cream, $25, Amazon
Aquaphor Advanced Therapy Healing Ointment, $9, Amazon
OK, you're not going to love this stuff, but just hear me out.
Even though you'll look like you live underwater after you apply Aquaphor (it's basically like smearing petroleum jelly all over yourself), when you wake up in the morning, you'll be SHOCKED at the improvement.
Is it weird to put something that's used to treat diaper-rash on your face? I refuse to comment.
I will continue to use this until I die. The end.
But, if you have oily skin, it's probably not a great option for you since it's so heavy.
Instytutum Anti-Aging Day Cream
I have been using Instytutum for the last two months, and the improvement from even four weeks ago is staggering.
Honestly, I feel like a golden goddess. It is a facelift in a jar.
This day cream combines Vitamin E, hyaluronic acid and retinol (the best anti-aging ingredient on the market) to plump up skin, improve elasticity and provide moisture for the entire day.
Those stubborn wrinkles (especially those between my eyebrows) started to disappear by week three of using this cream, and I decided at that point, I would be using it for the remainder of my life.
I use it in combination with Instytutum's Triple Effect Peel, which reduces the size of my pores and uses salicylic acid to eliminate and prevent blemishes.
Skinceutical Blemish + Age Defense Serum, $75, Amazon
Skinceuticals is the real deal. Walk into the offices of Medical Dermatology and Cosmetic Surgery in Manhattan, and prepare thyself for an onslaught of these products to shine bright like diamonds from immaculate shelves.
Warning: These products are pricey, but they are also worth it.
If you invest in these, both your skin and your future self will thank you for it.
On the bright side, Blemish + Age Defense Serum is a preventative product, which is great because it will reduces chances of the onset of adult acne, something nobody ever sees coming.
Adult acne makes victims of those with even the best complexions in their 20s.
I've seen it happen, and it ain't pretty, folks.
Kiehl's Butterstick Lip Treatment, $26, Amazon
Any lip balm with SPF is a must-have for a spot-on, anti-aging skincare regimen.
Do you want to have those lip creases that your lipstick seeps into? Those are my absolute fucking nightmare.
My favorite brand for a smooth pucker is Kiehl's Butterstick Lip Treatment, which you can get either as regular balm or with tint. It blends coconut oil and SPF for the most soothing smoochers on the block, and it lasts for up to 10 hours.
Kiehl's also has a ton of eye creams to choose from that I've personally tried, and I would recommend any of them.
But, always be aware of your skin type, and be conscious of what works best for you.
Do your research!
I hope you'll all take my advice.
I put my heart and soul into this roundup because I care about each and every one of you keeping your skin healthy and gorgeous. You all deserve it.