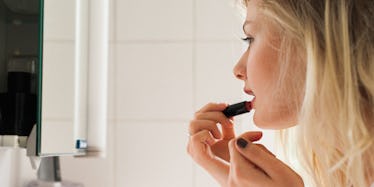 What To Add To Your Beauty Routine Now For Flawless Skin In Your 30s
As a lover of all things beauty, it doesn't come as a surprise that I have slight obsession with skin care.
It also doesn't hurt that my mom was a true #GirlBoss in her day, and she not only put herself through school to be an esthetician, but she also owned her own skin care salon.
So, it's safe to say I know a thing or two about taking care of your skin.
TBH, it's pretty overwhelming stepping foot into the skin care section of Sephora and not knowing where to begin.
There's serums, toners, face creams, night creams, eye creams and face oils, and you're just wondering how you can get your skin to look like Gigi Hadid's.
To achieve clear skin and be able to glow like a Victoria's Secret model, it's imperative to start paying attention to your skin care now. Just a friendly reminder: Everything you do now will show up later.
So on that note, it's time to start being kinder to your skin.
Here are five (very important) tips you need to know in your 20s, before your future self looks like a wrinkled raisin:
1. Moisturize.
I can't stress enough how crucial it is to moisturize your skin, no matter your skin type.
By keeping skin hydrated, it will prevent early signs of aging and give you that dewy skin you've been longing for.
By knowing your skin type, make sure to pick the right moisturizer to accommodate your needs.
Dry skin? Try a thick, richer formula (especially in the nasty winter months).
Oily skin? Your best bet is a lighter consistency, such as a lotion.
Do your research and ask questions. That's the only way you learn.
2. Don't skip on your eye cream.
I started wearing eye cream at a really young age because I tend to have thinner, dry skin under my eyes.
The blue undertones under my eyes (my veins) tend to show more than other people with thicker skin. That can be super annoying when trying to cover up dark circles.
Aside from the skin being thin, it also gets dry in the winter, so I really couldn't function without eye cream.
Sounds dramatic, but I'm speaking the truth here.
My mom told me to start wearing eye cream at literally 12 years old to combat my under0eye concerns. Now, being older and more concerned about my skin's needs, I don't go a day without wearing eye cream both day and night, and it's helped so much.
It not only will prevent wrinkles around the eye area (bye, crow's feet), but eye cream will also allow your under-eye concealer to go on much more smoothly and prevent creasing.
3. Incorporate SPF into your daily routine.
OK, this rule sounds like a broken record, but I can't discuss skin care without mentioning it.
You already know how crucial wearing sunscreen is in the summer when you're basking in the sun singing along to Kanye. However, SPF should never leave your sight all year long.
Incorporate SPF into your daily routine by either wearing a moisturizer or foundation with SPF already in it, or mix a little SPF face lotion in with your moisturizer.
There's nothing attractive about dark spots or leathery skin from the sun. You'll thank me later when your skin looks and feels luscious in about 10 years.
4. Exfoliate.
I'm a weirdo who loves exfoliating. But hey, I'm not alone.
Pharrell Williams contributed his ageless skin to exfoliating. Seriously, Pharrell is a vampire who hasn't aged since high school, and he is #goals.
For real, it is super important to exfoliate that dead skin off your gorgeous face at least once or twice a week.
All that makeup, sweat and dirt builds up, clogs pores and causes breakouts, and nobody has time for that when we're trying to look like a Hadid sister.
If your skin is more on the sensitive side like mine, go for a less gritty exfoliant and maybe cut back to only once a week. That way, you don't irritate your skin.
5. Check the ingredients in your products.
Whether it's due to being creatures of habit or you just choose not to turn your products over and read the ingredient list, you need to check out what's in your Holy Grail skin care products.
For a while, I was like just about every other woman using makeup remover wipes to take off my face. That didn't change until one night when I was doing my usual nighttime routine, and my mom had a face of horror after walking into my bathroom.
"What are you using on your face?" she dramatically asked.
I told her the wipes I've been using forever.
Thankfully for my wise mother, she informed me that these easy breezy wipes I used every night were filled with junk ingredients and were totally drying out my already dry skin.
It all made sense why no matter what serum or moisturizer I used, I couldn't defeat the dry patches on my cheeks and forehead.
Not only were they making my skin super dry, but they also always left a funky residue on my face afterward, and that was pretty gross feeling.
I immediately threw out my wipes and vowed to never use them again.
Also, another tip is to beware of products that smell pretty. That's another clue that fragrances and other crap are in them, and you don't want that on your pretty face.
So, do yourself a favor and check out what you're washing with or putting on your face.
My fellow 20-somethings, start taking care of your skin now.
This goes for my guys also. You heard what Pharrell does!
Everything you do now will — without a doubt — show up later.
You may be a bronzed goddess at the moment thanks to the sun and tanning beds, but 10 years down the road, your skin will look aged and withered. You don't want that.
Follow these few tips, and your skin will stay like a baby's bottom for years to come.