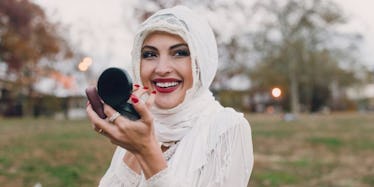 If You Always Fall Asleep In Your Makeup, Here's What You Should Do The Next Morning
It doesn't make much sense when I say it out loud, but taking off my makeup before bed feels like it requires more than double the amount of effort it takes to apply that morning.
That being said, I'm not perfect, so even though I know better, there have been plenty of nights where I accidentally, and even purposely, neglected to take off my makeup.
The (semi) good news? It happens!
The bad news? It really shouldn't.
On the surface, all you'll see after a full night's sleep and full face of makeup is a bit of smearing here, there, and raccoon eyes blinking back at you in the mirror.
Unfortunately, though, looks can be deceiving, and what appears to be just a run of mascara, could actually be the visual signs of skin damage.
Here's what to do as soon as you wake up with a full face of makeup.
1. Remove Your Makeup
The first step is probably the most obvious here, but the first order of business after a full night's sleep all dolled up is to strip your skin of all the cosmetic gunk hanging around from the night before.
Where to start? Always at the eyes.
Dr. S Manjula Jegasothy, MD of the Miami Skin Institute told InStyle,
Many eyeshadows contain quartz and mica, which are highly irritating to eyelid skin and can concentrate in the fold, releasing dark particles into the eye for days later. This can cause chronic irritation to the corneal surface, and cause chronic dry eye. Mascara formula can also crumble and flake into the eye, causing these symptoms as well.
I've tried a lot of makeup remover products, and I've found Skinfood's Rice Brightening Facial Cleansing Tissues and Vichy Laboratories' Pureté Thermale Micellar Cleansing Water to be the most effective, as well as the most gentle.
Skinfood Rice Brightening Facial Cleansing Tissues, $12, Ulta; Vichy Laboratories Pureté Thermale Micellar Cleansing Water, $15, Amazon
2. Wash Up
I learned about the double cleanse after some extensive research into a traditional Korean skincare routine.
I may not have been able to keep up with all the many steps (especially on lazy nights), but this one stuck with me.
Now that your makeup is off, wash your face with an oil-based cleanser (I love the Amorepacific Treatment Cleansing Oil Face & Eyes), applying the serum-like texture to a damp complexion, lather, and rinse, directly followed by a water-based cleanser.
The dual-action wash will ensure an optimal cleanse so no dirt or grime is left behind -- in or on top of the skin.
Amorepacific Treatment Cleansing Oil Face & Eyes, $50, Sephora
3. Pamper
You enjoy being coddled when you're feeling particularly under the weather, right?
Well, your skin would like to be nursed back to health with its own variation of TLC.
Give compromised skin the spa treatment with a few minutes of masking. Access the damage and apply skincare accordingly, be it a sheet dripping with tightening serum, or a muddy putty powerful enough to extract impurities and dry out murky blemishes.
4. Moisturize
There's a reason you're told to drink a glass of water as soon as you wake up in the morning.
After six to eight hours of beauty sleep, your skin is dehydrated AF.
Add a full face of makeup to the equation, and your complexion will be reeling for relief.
Liberally apply your favorite moisturizer for a burst of hydration asap. The Lano All Over Everywhere Multi-Cream is an excellent natural, super gentle balm that's been formulated with triple lanolin and milk to tenderly nurse skin back to health.
Lano All Over Everywhere Multi-Cream, $17, Nordstrom
5. Change Your Bedding
Tossing and turning all night will inevitably lead to a few stains across your pillow, which a) isn't cute and b) leaves traces of bacteria around to invade your next snooze.
Dendy Engelmann, M.D., director of dermatologic surgery at Metropolitan Hospital told Glamour,
If you don't launder your pillowcase and sheets the next day, you risk reverse contamination, so even if you end up washing your face before going to bed, that residual product will be on your pillowcase already and in effect will transfer back onto your skin when you lie down.
I'm getting grossed out just thinking about it, TBH.
6. Go Natural For The Day
At this point, your skin has probably endured a full 24 hours or more of cosmetics. After you've taken the necessary steps to cleanse, let your skin breathe for a while.
Take a day off from makeup application (you're gorgeous as is, anyway!), and restrain from picking at any blemishes or sensitive areas that may have formed overnight.