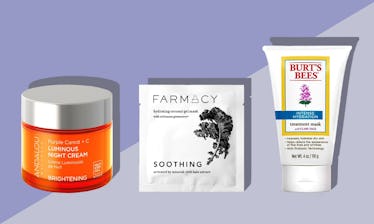 These Face Masks Are Cheap AF — But They're Some Of The Best Out There
Bustle/Amazon
When shopping for face masks, there are so many things to keep in mind. Do I want an instant glow from a hassle-free sheet mask or to purge my pores with powerful (but messy) clay? Or, most often: what's at the root of this pesky breakout?! Everyone's skin is different, which is why all of the masks listed ahead target a specific concern. Whether you're looking for an exfoliating wash-off treatment or a soothing gel formula made with coconut, there are plenty of good cheap face masks to choose from, below.
Another aspect of choosing the best affordable face mask for your skin's needs is knowing how you want it to factor into your normal skin care routine. Many use masking as a quick fix to solve a specific issue like redness or flakiness, but sheet masking in particular is actually an integral part of a comprehensive 10-step K-beauty routine that's left satisfied beauty gurus with clearer, brighter, and tighter skin for years. Layering a serum-drenched sheet mask on top of your other products will help them penetrate deeper into your dermis, giving you way more bang for your buck in the long run — in addition to, of course, better skin.
We know that finding the right sheet mask can not only be difficult, but also pricey. If you're using one every day, it can add up fast. That's why multi-use formulas are included here, too. Because they're generally sold in larger tubs — as opposed to sheet masks, which are one-and-dones —they act as an even more inexpensive way to target specific skin care concerns without feeling wasteful.