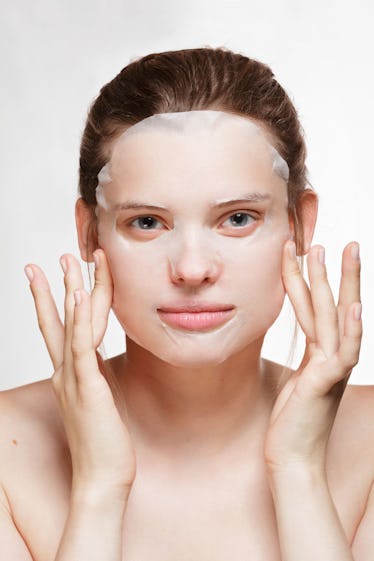 10 Best Face Masks To Bring On Your Next Flight For An #IWokeUpLike This Glow
Going on a long plane ride can be such a struggle. You have to try to get comfortable in your neck pillow, eat airplane food, and keep hydrated. Not to mention, recycled plane air can seriously do a number on your skin. Luckily, there are a ton of face masks that are easily transportable and keep your skin looking so fresh on the go. I'm a frequent traveler and self-proclaimed skincare aficionado, so I've rounded up what I believe to be the best face masks to bring on a plane.
Despite the fact that you might scare a flight attendant or two, putting on a face mask is a fun and effective way to keep up with your skincare routine, especially on those long international flights. (I used two sheet masks and one sleeping mask each way between Los Angeles and Sydney, because my skin was not happy about the 15 hour-long flights.)
It might seem a little excessive, but you'll be so glad you kept up with your skincare when you get off the plane. Whether you prefer a sheet mask or a cream mask, you should bring all of these on your next trip to keep your skin looking fresh AF.
1. This Deep Hydration Mask Will Leave Your Skin Soft And Dewy
2. This J-Beauty Mask Is Everything You Need To Get Your Glow On
3. Instagram's Favorite Mask Is Perfect For Life On The Go
4. This Mask Will Have Your Face Feeling As Fresh As A Watermelon
5. This Set Of Sheet Masks Will Treat All Of Your Skincare Needs
6. You'll Go Coco-Nuts For This Hydrating Mask
7. This Mask Is An All-In-One Skincare Savior
8. This Luxurious Mask Will Make You Feel Like You're Relaxing At The Spa
9. Amp Up Your Skin's Regeneration Process With This Sheet Mask
10. This Sheet Mask Will Have You Red Carpet-Ready