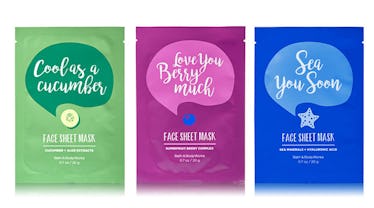 Bath & Body Works Sheet Masks Are Here & Now You'll Want To Live In Their Stores Even More
My bathroom is an ode to Bath & Body works. I have a Board Walk Vanilla Cone foaming soap by my sink, a Coco Shea Coconut Body Butter for post-shower hydration, and a Relax candle for aromatherapy purposes on my most stressful days. Now, Bath & Body Works Sheet Masks have arrived so I can indulge my jealous face in some pampering, Bath & Body Works-style. Seriously, my bathroom was lacking some Bath and Body Works skincare.
It's safe to say that Bath & Body works has really conquered the bathing category. With their body washes, shower gels, and copious amounts of creams, they're truly the go-to for bath-time pampering. Who among us has not received a basket of Bath & Body works goodies as a thank you and/or holiday gift from a work colleague and/or acquaintance? We've all been on the giving or receiving end of a travel size body spray.
The brand's lineup is so often gifted because they're always a good idea. Who doesn't want to smell good after a shower? Whether it's for your aunt, your grandma, or your teenage cousin, no one turns down a sensible Bath & Body Works product. Since their the champions of indulgence for the body, it was only a matter of time until they tackled your face.
Bath & Body Works released six individual sheet masks: Cool As A Cucumber ($5; bathandbodyworks.com), Sea You Soon ($5; bathandbodyworks.com), If You Shea So ($5; bathandbodyworks.com), Love You Berry Much ($5; bathandbodyworks.com), Keep It Fruity ($5; bathandbodyworks.com), and Totally Tea-rrific ($5; bathandbodyworks.com).
In true Bath & Body Works fashion, each sheet mask is individually priced at $5, but when you buy three, the cost is a mere $12! They know we bargain hunters love a good deal.
The front of the packaging lists the main ingredients in each sheet mask responsible for delivering the results to your skin.
If your skin is giving you grief, then you might want to try out the Cool As A Cucumber mask. It will soothe inflamed skin and leave you feeling refreshed. If your skin's feeling a little thirsty, then the Sea You Soon will work wonders. With hylauronic acid as a key ingredient, you're sure to feel plump and juicy in no time. If you need some deep nourishment, then the shea butter and jojoba oil in If You Shea So will bounce you right back to normal.
Love You Berry Much will give you immediate glow without having to use an illuminator. Keep It Fruity will brighten your skin and erase dreaded dullness and darkness from your complexion. It's like a ray of sunshine in sheet mask form. Finally, if your major concern is texture, the Totally Tea-rrific with smooth out your skin for super supple results.
The directions are pretty standard. Simply rip open the package, unfold the mask, apply to your face, leave on for 10-15 minutes, and voila! You'll be left with recharged skin that's ready to face the dirty, polluted, and stressful world. Don't forget to pat the excess serum in. Never rinse off the contents of the sheet mask, or you'll be removing most of the benefits.
Also, each mask is cruelty-free and even says so on the back of the packaging (what a blessing).
So if your skin is feeling a little crunchy thanks to the harsh winter weather, why not indulge your face in a mask (or three) to bounce your skin back to hydrated, healthy condition. You can purchase all six masks right now on the Bath & Body Works website.
I highly suggest lighting your favorite candle, taking a bath with a Glitter Unicorn Cotton Candy Bath Fizzy ($9; bathandbodyworks.com), and masking simultaneously. It's called self-care, OK?