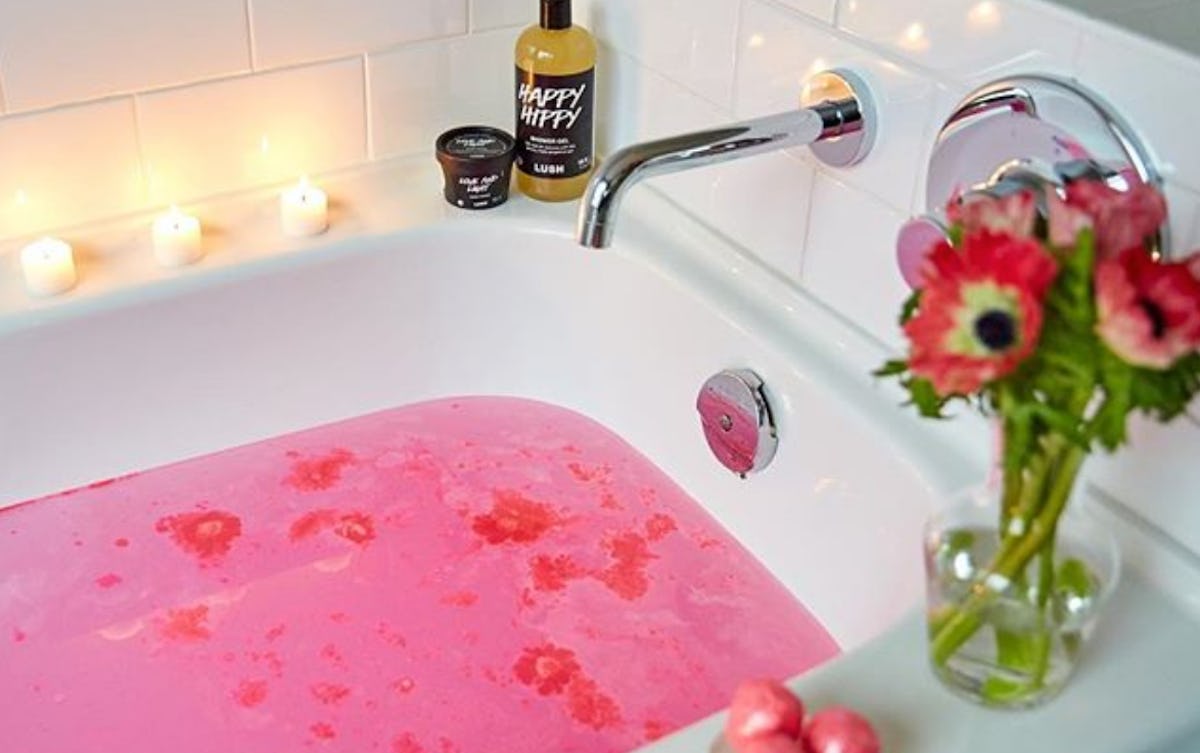 14 Self-Care Products To Snag If You're Your Own Valentine
The holidays can be rough. Whether you have seasonal depression or a volatile family, many of us can't leave December behind unscathed. With Valentine's Day looming ominously on the horizon, you might sense those feels trickling back. You're not alone, my friend. Self-care products and a healthy dose of "me time" will help you make it through V-Day without it becoming D-Day.
Luckily, our society is experiencing a self-care movement. We humans have feelings that we sometimes cannot control. It's normal and helpful to recognize them, address them, work through them, and then let go of them. Gone are the days of swallowing pride and emotions. If you know you're not feeling "yourself," always take the time to treat yourself like the royalty you are. One day of indulgence might help you work through it faster than five days of wallowing.
Valentine's Day can be a particularly difficult time. I don't remember the last time I had a Valentine, TBH, and with friends and family getting engaged, married, and pregnant every other day, you might need a little TLC. So put on your favorite robe, round up some of these self-care goodies, and prepare for a day of self-love and indulgence. I promise you, you deserve it.
Bath Bomb
Giant Rose Bombshell, $20, Lush Handmade Cosmetics
Baths and self-care go hand in hand. When I'm in the tub, I reach a level of meditative peace that transcends any negative reality I'm experiencing. This V-Day, opt for the Giant Rose Bombshell. You've experienced regular bath bombs before. It's time for an upgrade.
Body Wash
L'Occitane Cleansing And Softening Shower Oil With Almond Oil, $25, Sephora
This is, by far, the best body wash I have ever experienced in my life. Your skin will feel insanely soft and supple post-shower and will smell sweet in the most subtle way. Seriously, there is no bath product as luxurious as this.
Towel
Pinzon Heavyweight Luxury 820-Gram Bath Towel in Marine, $21, Amazon
A fluffy towel can be life-changing. All of a sudden you can become the lead in your own independent feature film, wrapping yourself in yards of cozy, soft towel, gazing out the window to see the grey and hazy skyline while melancholy French music plays on in the background. This towel specifically has a four-star rating with over 800 reviews (quite the feat) and was ranked the best bath towel to buy in 2018. And if that's not enough, you can use it for your bathleisure selfie.
Candle
Campfire Rebel Candle, $45, Pinrose
Treat yourself to a candle in your favorite fragrance scent. Though I do love a good TJMaxx candle steal, there's nothing like splurging on a fancy candle that fills the air with your all-time favorite scent. I myself am partial to the Campfire Rebel fragrance from Pinrose, which smells like burning oud wood and vanilla bourbon. It's all very hygge to me.
Eye Patches
Wander Beauty Baggage Claim Gold Eye Masks, $25, Sephora
I have the kind of eyes that are insanely puffy the morning after a good cry. Seriously, I already have hooded eyes so I can barely see when my eyes are swollen. Undereye patches have been my favorite quick fix over the past year. The Wander Beauty Baggage Claim Gold Eye Masks will soothe and calm your under eye area, so pesky undereye bags can eff off. The package comes with six sets, so use one now and save the rest for beauty emergencies. Plus, the gold is just insanely luxurious.
Face Mask
GlamGlow #Glittermask Gravitymud™ Firming Treatment, $69, Sephora
This mask is just insanely fun. Self-care at its best.
Hand Cream
Tocca Crema da Mano in Cleopatra, $8, Sephora
Keep your winter hands soft and supple with this Tocca hand cream. This scent really is worthy of Cleopatra. It's intoxicating. Plus, at $8 a pop for a luxury product, you really can't go wrong.
Body Butter
SheaMoisture Coconut and Hibiscus Body Butter, $11, Target
Hydrate your body the way it deserves with SheaMoisture's Body Butter. Even if your skin is cracked and chapped from the rough winter air, it won't sting when applied. Plus, it smells delicious.
Face Moisturizer
J.One Hana Cream, $50, Sephora
Each individual pearl of encapsulated moisturizer is enough for a full face application. This K-Beauty stable gives insane Marie Antoinette vibes.
Hair Mask
Hask Unwined Pinot Noir Deep Conditioner, $4, Ulta
Pair your wine with your hair mask and get drunk on indulgence. This hair mask uses the power of wine (which we all know and love) to leave your hair deeply conditioned and thoroughly taken care of.
Lip Mask
Bite Beauty Agave Lip Mask in Maple, $26, Sephora
If you're hydrating your body, hands, hair, and face, you have to hydrate your lips too. I swear by the Bite Beauty Agave Lip Mask. It's the only lip balm that has repaired the skin on my chapped lips and left me feeling moisturized for hours. The new Maple flavor tastes like breakfast in the best way and I'm all for it.
Bra
Dita von Teese Savoir Faire Sheer Underwire Bra in Black Copper, $75, Journelle
There is nothing better than a new bra that fits and supports you more than any SO ever would. When that bra is super gorgeous and worthy of the royalty that you are, it's even better. Dita von Teese knows sexy better than anyone.
Robe
My Sexy Satin 4 Piece Set in Wine, $33, Fashion Nova
I don't know about you, but there's something kind of magical about a silk robe and matching slip. It's not an everyday occurrence, but on my self-care days, I love dressing up for my own appreciation.
Slippers
Patricia Green Relax Embroidered Mule Slipper, $72, Nordstrom
We all need a little reminder sometimes.