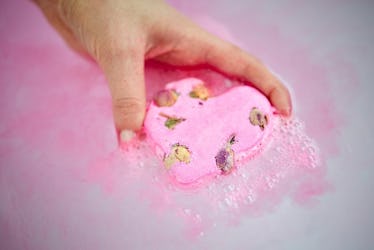 Lush Is Releasing A Giant, Rose Petal-Filled Bath Bomb For V-Day, So No Need To Make Plans
Lush Cosmetics
Different types of people come out of the woodwork near Valentine's Day. I fall into the camp of singletons that surprisingly love seeing all the cute gestures. Whether you love or loathe the holiday, you may find yourself wondering what's in the Lush Valentine's Day collection, and that's actually a genius idea. Instead of posting a picture of a lonesome bottle of wine with the caption forever alone single lady, you could be snapping a cute picture of your Valentine's Day #bathgoals.
I'm probably the single girl exception, but I've always loved Valentine's Day. In my middle school and high school years, I enjoyed helping my guy friends pick out the perfect gifts, and to this day I still eat Valentine's Day candy hearts. Now that I'm older, nothing says I love you more than a relaxing Lush bath. Whether you're using a bath bomb for a V-day bath for two, or looking to indulge in a Lush product bath by yourself, the brand's Valentine's Day line is beyond adorable.
This year, I'm definitely going to have to indulge and buy a couple of products, because the natural brand has truly outdone itself. Exhibit A: This giant rose bath bomb that releases actual petals. Your V-Day bath will never be the same, my friends.
Dropping Jan. 19, this line is jammed packed with some amazing products, with the crown jewel being the giant-sized version of Rose Bombshell. The regular size is already a best-selling product, and this isn't the first time Lush has supersized a bath bomb, either. The large version of Lush's Rose Bombshell ($20; lushusa.com ) is filled with rose petals and eco-friendly glitter, so your #SingleAF post will actually be beyond lit. If nothing else, expect some DMs from suitors asking to join you.
The Rose Bombshell is also handmade by three different people. Not only do the creators have to press different colors and oils into the mold at different times, but each bomb is filled with sea salt and yellow rose petals. So it's not only pretty, but the nourishing ingredients will aid your dry skin.
Thanks to 23 ingredients (such as geranium and rose oil, rose absolute, yellow rose petals, Sicilian lemon, and floral geranium oils), a sweet-scent will waft through your bath air. Basically you're getting a spa-like experience on the cheap, without even leaving your apartment.
Rose lovers will love knowing that Lush is one of the biggest consumers of rose oil and rose absolute in the world. Just to make one kilogram of rose oil, it takes up to 1,866,666 roses, so just think about that if you can't get one guy to text you back.
Ever since 2005, Lush has been buying rose oil and rose absolute from the producers right in Senir, Turkey. Not only do they work with over 3,000 local farmers to distill the oil and absolute from the petals of the native Damask roses, but they also pay a premium on every kilogram of oil. The premium they pay goes towards running (and the initial build) of a local primary school in Senir — another fact that will make you feel great about your choice to bathe.
Overall, Lush will be releasing a 23-product lineup to round out the Valentine's Day collection. It'll feature 19 new products such as a lip-shaped Kiss Me Quick Wash Card ($4, lushusa.com), and a Tender is the Night naked shower cream ($25, lushusa.com).
In addition to new products, the line will also feature four previously-available products. The fan-favorite Unicorn Horn ($8, lushusa.com), a pastel-colored bubble bar with lavender and neroli accents, is my recommendation for your second bath, should you choose to bathe again.
So before you reach for Instagram to sadly scroll and wish you had a bae, just get in the bath. Light a candle, grab an amazing book, and get ready to have the best Valentine's Day of your life.