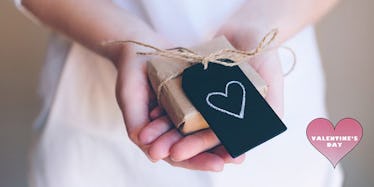 The 7 Best Gifts To Buy Yourself On Valentine's Day If You're Single
Jacqui Miller
With Valentine's Day's approaching, couples will exchange quality heart-shaped or candy-oriented presents, signifying how in love and indebted they are to each other.
Well, I'm the best gift giver I know, and I'm single.
But I don't need to use a Hallmark holiday as an excuse to buy something. So if you're single like me, it's about time you stopped feeling so left out in the gift exchange. Treat. Yo. Self.
According to Elite Daily's reader survey, 30 percent of single ladies would buy a nice gift for themselves for the holiday, and 22 percent of men would masturbate if they weren't celebrating... which, trust me, is a pretty solid present.
You don't need to wait around for someone to hand you partially melted chocolate and flowers that'll wilt and die in a couple days. There's no better person to love than yourself.
So instead, go out and get your single self one of these seven presents this Valentine's Day.
1. Foil-Wrapped Chocolate Penises ($6.99)
Missing a dick in your life?
Well, count your blessings because you're about to have eight 1.5 inch schlongs to suck on this holiday season.
And no, I'm not referring to a gang-bang — I'm talking 'bout chocolate! There's plenty of milk, white and dark to go around.
2. Wine Bottle Glass ($14.99)
Quench your thirst this Valentine's Day with a glass perfect for any wine lover who's lazy AF.
This item holds the entirety of a wine bottle, making your life a lot easier when it comes to pouring, Plus, you'll get wasted within the hour.
Channel your inner Olivia Pope (just a lot less classy) and get draaaaaaankin'.
3. "Single & Ready To Crotch Mingle" Soy Candle ($18)
Plain and simple, candles are the shit.
I only recently came upon these scented wax bombs of joy a few months ago, and now, my apartment is at a much higher risk of burning to the ground. But it's worth it!
This all-natural soy candle comes in a variety of scents, and it will be a constant reminder that there are crotches all over America just waiting for me.
I'll find a special someone someday.
4. "50 Shades of Grey" Secret Touching Finger Vibe ($18.99)
Bulky dildos and silicone penis replicates are great and all when you're by your lonesome, but what if you had vibrations right at your fingertips, quite literally?
Inspired by "Fifty Shades of Grey," this touching finger vibe grants you full control over every touch and tease you wish to feel.
Christian Grey, I think you've been excused.
5. A MeUndies Gift Card ($25)
If I'm not sleeping balls-out-starfish, odds are, you can catch me in a pair of these bad boys.
When you have a tagline of the "World's Most Comfortable Underwear," there's a lot at stake. Luckily, MeUndies isn't a cheating, filthy liar like some of the guys you've dated.
They're soft, stretchy and come in enough colors and prints to match whatever you throw on that day. That is, if you remember to wear underwear...
6. A Sloth Onesie ($29.99)
Because onesies are like cuddling up back in the womb, and sloths are the shit. Need I say more?
7. Lady Gaga Joanne Tour tickets ($45-$275)
Lady Gaga, fresh off her Super Bowl domination, is ready to take over the world with her recently announced Joanne tour.
Luckily for you, nothing says self-appreciation better than some concerts tickets guaranteed to leave you dazed, amazed and covered in glitter.
Who knows? Maybe you'll bump elbows with a diehard "little monster" with very similar interests to yours.
So what're you waiting for? Get gifting!