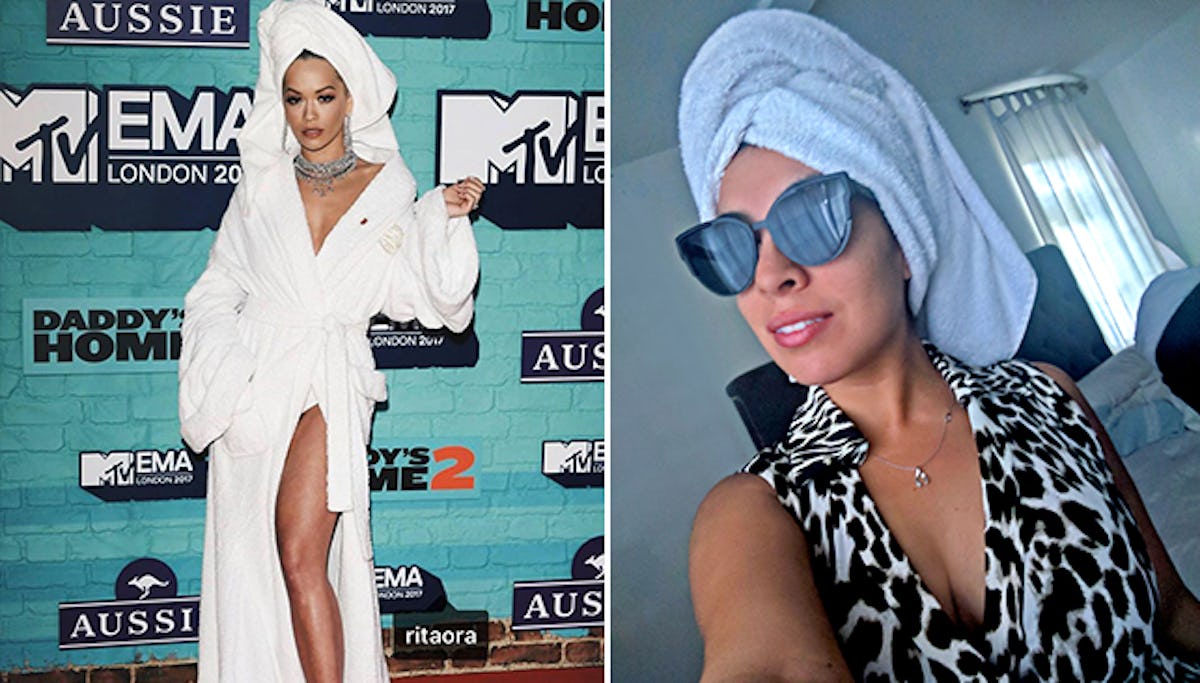 "Bathleisure" Is The Instagram Trend For Lazy Girls Who Still Love A Good Selfie 
Stephanie Montes
Fashion and beauty trends come and go, but great style never dies. For 2018, Instagram trends show "bathleisure"is here to stay, or at least not quite a wrap. As a personal proponent of the athleisure offshoot, I'm acutely aware of the fact that a terrycloth towel can feel high fashion. It's all in how you style it. This one goes out to our lazy girls that just can't seem to find the energy to get dressed in the morning.
I know this is going to sound silly, but my outfit of choice for an Instagram picture is a towel wrapped around my body (sometimes even when I didn't just get out of the shower) and another one wrapped around my hair (also sometimes when it's not wet). I told you it's weird. Just hear me out, and I swear you'll want to try it the next time you snap a selfie — especially if you have the same lazy-girl tendencies I do.
First of all, lately I've been feeling like my closet needs a major overhaul. I'm not sure if it's because I live in Los Angeles and though my brain is telling me to wear chic trench coats and leather boots, this weather has me reaching for last-season's spring dresses. Or if it's just that I'm caught between my evolving style and my hoarder-like habits of holding on to things I don't even wear anymore. Either way, I'm in that phase where I hate all my clothes.
At this point, a clean, white towel looks cuter than anything I'd grab from my closet, and I don't even have to worry about repeating my favorite outfit in every photo. Secondly, I'm not the type of girl that spends hours grooming her hair. My daily hair routine involves air-drying and throwing it up in a topknot. When it comes to my beauty routine, I prefer to spend my time on skincare and makeup — this is where my selfies come in.
As a beauty writer, I love sharing my favorite products on social media but every time I snap a photo, my hair just looks a mess. My air-dried waves and trendy updo get me through the day, but they just don't read in photos.
Enter, my secret weapon: The bath towel. I just wrap it around my hair and it instantly gives me an "oh, hi, I was just lounging around my private cabana" cool-girl vibe. Of course, I'm nowhere near a cabana but somehow this is how my brain works.
Like it or not, this has been my approach to social-media fashion for years. But as it turns out, in my attempt to ditch all the old trends hanging in my closet, I stumbled upon (and dare I say pioneered) a brand new one.
Last November, Rita Ora stepped onto the MTV EMA red carpet in London in a head-to-toe terrycloth ensemble, complete with my signature move: A towel wrapped around her head. And she wore it just right too. She paired it with a full face of makeup, so it still feels glam. I remember people hating on it but I thought it was so fabulous, especially when worn with loads of diamonds. Then, later that month, Rihanna posed on the cover of Vogue Paris wearing a Pucci beach towel wrapped around her head. I, on the other hand, took the below photos way before then. The one on the left was taken some time last October and the one on the right was taken two years ago. They lived on my Instagram Story for a full 24 hours.
I'm not saying that I invented the concept of wrapping a towel around my head, but I will say that it's always been my go-to "outfit" in photos. The only thing I didn't do, was name my look. As it turns out, the name came later, and it's a really good one at that. Keep your eyes peeled for selfies of girls wearing towels on their heads and #bathleisure flooding your Explore page. In the mean time, I will continue doing what I've been doing all along, all in the name of lazy-girl fashion.