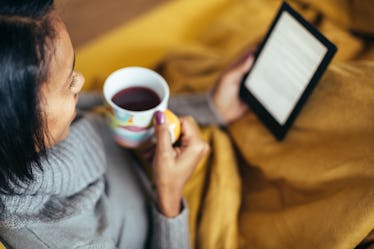 8 Products That'll Totally Transform How You Enjoy Your Mental Health Days
Workaholics (like myself) find it almost impossible to separate work life from personal, and even off the clock, we can have a lot of trouble keeping still. On the one hand, this is an admirable trait, as it proves you're 100 percent reliable and dedicated to your work. On the other, it's sort of debilitating because rarely, if ever, do you schedule a day off to take a breather, even when you know you need it. The United States Congress declared the first full week of October Mental Illness Awareness Week in 1990 to raise awareness about mental illness and how important it is to take mental health days when necessary. If you're used to constantly being on the move like I am, it can be challenging to dedicate an entire day to just mellowing out. So if you're wondering how to enjoy your mental health days without going stir crazy, there are plenty of products for self-care to assure you it's not too big of a challenge.
Statistics show that, on average, employees in the U.S. only take 54 percent of their allotted vacation days. According to a 2013 study released by the U.S. Travel Association's Project Time Off, a total of 658 million vacation days aren't taken, and that number is increasing by the year. Now, don't get me wrong, I'm all for putting in the work, but there's a reason the term "superhuman" is exclusive to comic books. There exists no such creature, and each and every one of us needs at least one day every few months to decompress, don't you think?
Make the most of your next mental health day by incorporating any or all of the following eight essentials that are sure to cater to your optimal well-being in one way or another.