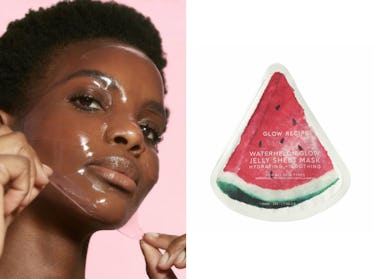 Glow Recipe's New Watermelon Jelly Mask Is Definitely Going To Sell Out
Glow Recipe
When beauty products have names that make me salivate, I'm 10 times more likely to buy them, knowing full well I won't be able to ingest them. The mere mentioning of "juicy" or "luscious" basically equates to the swiping of my credit card. Glow Recipe's Watermelon Jelly Mask is the latest deliciously labeled product to catch my eye — er, ears — and after reading about all of it's amazing ingredients and effects, I think it'll be an amuse-face that's actually worth investing in.
Last year, the beauty world went into a sweet tizzy when Glow Recipe's Watermelon Glow Sleeping Mask was introduced to the market. A hydrating and pore-refining overnight mask, it quickly sold out on the brand's website and at Sephora (multiple times, in fact!), cementing it as a must-have cult-favorite. As one editor from The Cut wrote, "I applied the bouncy, millennial-pink gel liberally all over my face, tried to take a nap during my eight-hour flight to Europe, and, despite a fitful sleep, woke up with skin that felt soft and smooth, and even looked decent in the bad overhead lighting of the customs hall." If that's not a glowing review I don't know what it.
Earlier this year, Glow Recipe introduced a follow-up product — its Watermelon Glow Pink Juice Moisturizer — which, although less buzzy, was also a hit. Described as "a lightweight moisturizer ideal for oily to combination skin, that is formulated with vitamin-rich watermelon extract, hydrating hyaluronic acid, and soothing botanicals to boost radiance and glow," the product sounds almost as good as its wavy glass and powder-pink packaging. (I'm a sucker for good branding, have you noticed?)
And now, to complete the trio of super sweet power products, the Watermelon Glow Jelly Sheet Mask is being added to the mix. Meant to "deliver all the antioxidant-rich benefits of watermelon combined with hyaluronic acid to deeply penetrate skin with a burst of hydration," as described in a press release, the mask also contains soothing Centelle Asiatica ("tiger grass") to help with redness and inflammation. It's jelly texture, which is made from fermented watermelon and natto gum, "allows the skin-saving serum to more deeply penetrate the skin, perfectly conforming to the face for an overall refreshing mask-ing experience." In other words, if you've got dry and flaky skin or a complexion that simply deserves a refresh (for me, both of the above), this jelly mask could be your saving grace. Or just something to treat yo'self to, you know?
Like other sheet masks, this one comes in a super cute tear-open package, taking on the appearance of a slice of watermelon. It's convenience at it's finest and is meant to be easy to use literally anywhere. "Airplanes, cars, trains — you name it and we've sheet-masked there," Christine Chang, co-CEO and co-founder of Glow Recipe, said in a press release. "Instead of touching up makeup throughout the day, we believe in taking the same approach to your complexion. Sheet-masking anywhere, whether in-flight or in-Uber, is a lot easier (and more subtle) with our invisible Watermelon Glow Jelly Sheet Mask. We hope to pioneer skincaring 24/7 with this latest launch."
The mask will be available at sephora.com starting June 1 and in stores nationwide on June 29. At $8, it's certainly not the cheapest mask on the market, but if it does everything the brand claims it will (and let's face it, they've got a pretty good track record), It'll be well worth the investment. "We can't wait for you to meet our newest summer obsession!" said Sarah Lee, Glow Recipe co-CEO and co-founder, the press release.