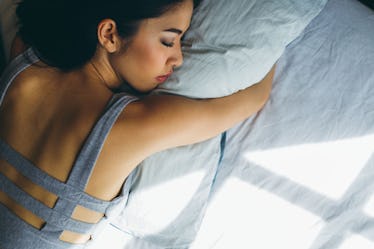 Acupuncturists Say You Should Focus On These 5 Pressure Points When You Can't Sleep
If you've ever struggled with insomnia, then you know how elusive sleep can seem when you're staring at the ceiling at 3 a.m., unable to settle into a restful slumber. Perhaps you've tried everything you can think of, from breathing techniques to white noise machines, and still, you're just totally and utterly wide awake. Well, you might want to try some of these pressure points for insomnia when you can't sleep, as recommended by real acupuncturists. Trust me y'all, you'd be surprised to find how something as simple as applying pressure to the right points on your body can calm you down and totally rewire your energy — and yes, send you to dreamland for the night.
According to acupuncturist Dr. Elizabeth Trattner, the practice of acupuncture is actually a part of the system of Chinese medicine, a type of care that takes a person's entire being into account, including their physical, emotional, and spiritual well-being, as part of the treatment approach. "We do not separate the physical and mental aspects," Dr. Trattner tells Elite Daily, "as they are both intimately tied together."
When it comes to treating insomnia through acupuncture, Dr. Trattner says, she tries to look for the root cause, like stress or anxiety, for example. But there are also pressure points on the body that specifically address sleep. Still, she says, it's always important to look at the entire picture, and to get the person's overall energy realigned so their body can function and rest the way it should. If you're struggling with sleepless nights, here are the pressure points on your body to focus on to help you get the rest you deserve.