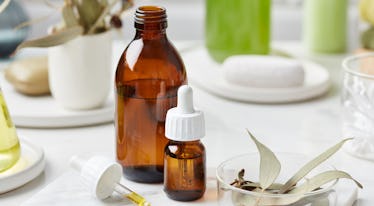 This Is The One Product A Dermatologist Says You Need If You're Experiencing Dry Winter Skin
When it comes to skincare, it's practically impossible to recommend a product on a one-size-fits-all basis. Everyone has different skin types and preferences, and the products they use should fit their specific needs. However, there are some types of products that I believe work well in almost everyone's skincare regimes, and I've got no reservations about sharing what I consider to be the one skincare product everyone needs for winter. If you don't already have a facial oil in your daily routine, it's time to start using one — yes, even you, typically-oily-skinned people everywhere. Believe it or not, the right oil for your skin type can be a major game changer, so if you want to overhaul your skincare routine this season, consider oils your secret weapon.
I know looking "oily" sounds less than appealing, so to convince those of you who won't leave the house without blotting sheets that you really can benefit from oils in your skincare routine, I'll let David Lortscher, MD, a board-certified dermatologist and CEO and founder of Curology, do the talking.
"In a dermatology office, we often see this 'winter itch' in our patients this time of year," Dr. Lortscher tells me, and I could immediately relate.
"Skin is prone to dehydration when exposed to dry, windy, wintery weather outdoors, which may be aggravated by forced-air heating inside," says Dr. Lortscher. "You might think that a steamy shower or long bath would help by hydrating the skin, but taking this to the extreme can have the opposite effect, leaving your skin dry, cracked, and irritated. Very dry skin can progress to inflamed skin that may itch."
Yikes. But before you panic and vow to hibernate throughout winter to save your skin, Dr. Lortscher believes oils can be a quick fix, as well as a long-term solution. "When your skin becomes dry, dull, and rough, applying oil in the evening, while your skin is still damp after cleansing or showering, may work to 'seal in' some hydration," he explains. "This layer of oil on the skin's surface slows down water loss."
As someone whose skin used to have an uncontrollably oily complexion, I can already imagine a few of you declaring "thank u, next" to the idea of using oils, but consider this: Treating your skin to good-for-it oils can actually balance it out and prevent skin from overproducing the excess oil you detest. Dr. Lortscher agrees, noting, "Contrary to popular belief, most oils are well-tolerated on oily, acne-prone skin. For example, mineral oil and non-sulfated jojoba oil are usually fine."
Wondering which oils are best for your winter skin? I asked Dr. Lortscher to break down which oils suit specific needs and routines best, and then rounded up some products by skin type.
For Oily Skin
"Look for an oil that is lightweight and non-comedogenic — tea tree oil is a favorite," advises Dr. Lortscher. Because a 100 percent tea tree oil solution can be irritating to the skin, it's best to stick with products that dilute it by using tea tree in combination with other oils. A perfect example is the Jouer Cosmetics Daily Clarifying Treatment Oil ($36, jouercosmetics.com) which utilizes lemon tea tree oil along with jojoba and neem oils to tone, brighten, and balance oily complexions.
For Dry Skin
"For those with dry skin, since the humidity outdoors and inside can be very low in the winter, our skin loses moisture (water) to the environment — so oils can be just what your skin needs," says Dr. Lortscher, who recommends skin be left a little damp when applying oils, so they can really sink in.
The Youth To The People Superberry Hydrate + Glow Oil ($44, youthtothepeople.com) has a super rich, moisturizing formula, thanks to antioxidant-heavy superberries like maqui, acaí, and goji berry, along with ingredients like hydrating prickly pear and squalane oil, omega fatty acids, and good old vitamin C.
One of the newest (and most on-trend!) hydrating oils to market is the Herbivore EMERALD Deep Moisture Glow Oil ($48, herbivorebotanicals.com), which has the perfect combination of hydrating and calming ingredients. Among others, meadowfoam seed oil and squalane work to replenish skin's natural moisture, while cannabis sativa seed oil and cannabis essential oil soothe irritation and calm the mind, respectively.
For Acne-Prone Skin
When it comes to acne, Dr. Lortscher's number one tip is to avoid coconut oil, which can clog pores and make breakouts worse. Like anyone with oily skin, those with acne-prone skin types should look for non-comedogenic products, which are made with only ingredients that won't clog your pores. Among the oils he does deem safe for acne are tea tree, maracuja, argan, and rose hips oil, the latter of which I personally can attest has helped diminish my acne scarring over the years. "Using omega-3 and omega-6 EFAs, such as [those] found in rose hips oil may provide anti-inflammatory effects, which can help improve acne," says Dr. Lortscher.
The Mario Badescu Rose Hips Nourishing Oil ($22, mariobadescu.com) utilizes rose hips extract and rose hip oil, and works to heal and hydrate as it treats the skin. Plus, it's got tons of anti-aging benefits, so you can continue use it even after your acne clears.
For Aging Skin
"Oils, especially those with protective antioxidant activities, may counter the appearance of fine lines, and dark spots, as antioxidants can boost collagen production and improve skin elasticity," notes Dr. Lortscher. The L'Occitane Immortelle Divine Youth Oil ($99, usa.loccitane.com) is known for its transformative properties, thanks to a formula that works to plump skin from the inside out. Immortelle oil, or helichrysum oil, is a floral oil renown for its skin-rejuvenating properties, and the Divine Youth Oil utilizes it in combination with other oils such as squalane, apricot kernel, evening primrose, and orange oil, just to name a few, to restore skin's texture and treat visible fine lines and wrinkles.
You also can't go wrong pampering aging skin with the Elizabeth Arden Eight Hour Cream All-Over Miracle Oil ($28, elizabetharden.com), which makes the most of tsubaki oil from camellia flowers. Tsubaki oil is rich in oleic acids that work with the skin to hydrate and condition, instead of just creating a layer of product on the surface. Plus, this one comes in a spritz bottle, so in addition to applying to your face, you can spray the oil's moisturizing properties onto your hair and body with ease.
For All Skin Types
Like I said earlier, it's not common to find a product that can work with a variety of skin types, but the Odièle Rose Sérum ($125, odiele.myshopify.com) is a rare exception to the rule, as it's got a little bit of everything in a formula that can benefit almost everyone. This is likely the result of how many good-for-you oils the 100 percent botanical oil formula includes: It's got argan, jojoba, and primrose oils to calm skin and target acne and texture, as well as rosehip and sweet almond oil to hydrate and reduce scarring and fine lines. Finally, rose essential oil works to soothe and gives this luxe product its signature scent. If you're looking to invest in one skincare item that essentially does it all, this little bottle is a total dream.
For The Under Eye Area
Eye cream just not cutting it after a late night? Try an oil! I personally swear by the Salt by Hendrix Eye Babe Eye Oil Treatment ($25, saltbyhendrix.com), which prevents your under eye area from looking dry, thanks to a combination of oils hard at work to fill in fine lines and promote cell rejuvenation over time. The formula utilizes all the oils a tired eye could want, including argan, jojoba, rosehip, watermelon, baobab, seabuckthorn, borage, acai, and neroli oils, as well as a dash of vitamin E. Plus, it deserves all the awards for its chic, minimalist packaging.
For A Personalized Mix
Maybe you can't find your true all-in-one, ride-or-die oil in stores? Fear not — essential oil brand Vitruvi has the fix. They've recently launched a line called Dynamic Skincare, which allows customers to create and build completely customizable oils using natural, plant-based ingredients. To get your perfect blend, head to the brand's site and select your base oil, as well as additional complex oils and essential oils of your choosing. (BTW, the site breaks down some of the oils mentioned above and more, so it's easy to select what you want!)
After that, mix together your selections and create your perfect oil, no guesswork necessary. Because the process requires some DIY mixing, you can personalize your product with each use, adding in more or less of the ingredients, based on your desired results each day.
If Dr. Lortscher's expertise and my own deep dive into the skincare realm's black hole have succeeded, hopefully you'll consider incorporating an oil into your winter skincare routine. Unless you can find a reason why you wouldn't want pampered, nurtured, hydrated skin this season, it certainly seems like the right move.