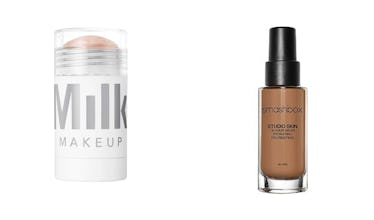 These Ultra-Hydrating Beauty Products For Fall Will Make Dry, Flaky Skin Quake
Milk Makeup // Smashbox
It's no secret that cold weather wreaks havoc on skin. Dryness, redness, flakiness, and constant irritation seem to become the norm, and walking out into windy grayness every morning feels like declaring war on your skin. Turning to powerful creams is a no-brainer, but what about adding hydrating makeup products into your routine? Whereas blush's sole purpose was once to add rosiness and foundation was purely meant to provide color, beauty products of all types have increasingly been re-thought and re-formulated not just to look good, but to feel good, too.
Definitely still invest in a powerful daily serum or moisturizer that helps with your winter skin woes, but also consider overhauling your makeup collection for colder months and choosing products that will help, not work against, your dry skin. Concealers, highlighters, lipsticks, blushes, highlighters, primers, and even mascaras exist that will infuse whatever they touch with moisture and radiance all day long, effectively working double duty. Innovation — isn't it a beautiful thing?
Below are nine super hydrating beauty products that don't sacrifice quality or effectiveness for their moisture-imparting capabilities. Whether your daily makeup look is subtle or bold, there'll be something you'll want to try out. Trust me, your skin will thank you.
Good Foundation
Foundation is perhaps the most important makeup product when it comes to keeping your complexion well-conditioned, since it's applied all over your face. This oil-free offering boasts a natural matte finish that won't settle into pores and fine lines, and it's formulated with flexible, breathable polymers, which means it'll feel breathable and comfortable. It also boasts a combination of Hyaluronic Acid and Vitamin E, which together nourish, soothe, and condition skin.
Feeling Balm-y
Tinted lip balms are the ideal product to have in your bag year-round. They'll give your lips a blush of color without it having to be too exact, and it's no biggie if the color smears. This offering has earned Sephora's Clean Beauty stamp of approval, meaning it's free of many harmful chemicals and ingredients found in other products. It's infused with refreshing mint and lavender essential oil for a great smell, while beeswax will leave your lips smooth and hydrated.
Healthy Hairs
I know what you're thinking, but yes, there are mascaras out there specially formulated to condition your tiny little eyelashes! Hair gets dry and brittle in the winter, too, so why not show your lashes some love with this mascara that contains a nano-peptide complex to improve strength and vitality of lashes?
Well Oiled
Add a drop of this oil into your foundation, and it'll turn into a magically conditioning product, or simply apply a light layer of it onto your face and put your foundation on top. This oil is formulated to leave skin soft, hydrated, and not greasy, so don't worry about having to blot throughout the day.
Glow Up
The nature of highlighter already leaves your skin looking glowy, but why not choose one that will double the radiance by conditioning your skin while it lights it up? Along with micro-shimmer, this highlighter also includes mango butter, peach nectar, and avocado oil, all of which have major hydrating properties.
Sweet Thing
Everyone needs a high powered lip balm to combat chapped lips, and this coconut-scented one is top notch. It'll remind you of a tropical vacation while also infusing your lips with moisture-preserving sugar and an emollient blend of apricot kernel, black currant seed, and grapeseed oils. What could be better?
Getting Cheeky
This buttery blush turns into a lightweight powder once it hits your face, which already kind of makes it magic. The fact that it's formulated with peaches and sweet fig milk, which are known for their moisturizing properties, only adds to its awesomeness.
For Starters
This eyeshadow primer boasts a feather-light formula, including hydrating aloe, regenerating rose hip oil, and de-puffing arnica. Plus, it's another Clean Beauty product. Double the goodness.
Pucker Up
I can personally attest to how awesome Charlotte Tilbury's Matte Revolution Lipsticks are. They boast an all-day wear and a stay-put matte finish without drying your lips out like most matte products do. Part of this miracle is thanks to orchid extract, the other part is thanks to "Charlotte's secret ingredient." I can see why it's so hush-hush.