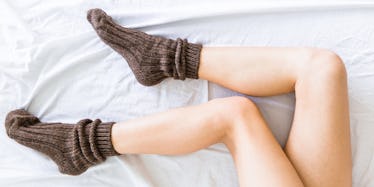 The Right Way To Finally Heal Your Flaky, Dry Skin This Winter
Is it just me, or has skincare gotten so damn complicated?
My grandmother has always been a "slap on some moisturizer and you're good to go" kind of gal. Why can't I be the same way?
I have to worry about the alcohol content in my toner, the pH balance of my night cream and the benzoyl peroxide in my face wash. When did I start needing a PhD in biochemistry to understand what I'm putting on my face?
Also, why is there always so much I have to apply before achieving skin like Eva Mendes?
The winter, in particular, is when skin becomes a flaky, dry mess.
Nothing seems to work, so it's time to do damage control.
Stop applying the sh*t you used when it was 85 degrees and sunny.
Do you wear your summer clothes in December? Nope, not unless you live near the sunniest beaches of California.
If you change what you wear from season to season, you need to do the same for your skin.
During summer, you probably veer toward foam washes and lighter moisturizers that pack a ton of SPF. In the winter, however, you need to get a bit heavier. Use cream-based washes and moisturizers to combat dry skin.
Oh, and if you do live in a year-round paradise, I'm jealous and moving immediately.
Try: Greek Yoghurt Moisturizing Face Cream, Korres, $36
Quit ditching your SPF.
It might be subzero out, but the sun is still chilling up there in the sky.
You don't have to lather your entire body in sunscreen, but you do need to keep your face safe from UV rays.
Bust out the SPF 30. Or, if you're extra lazy like me, just get a foundation that packs sunscreen.
Try: Umbra Sheer Physical Defense SPF 30, Drunk Elephant, $38
Hot water is not your friend.
A scalding shower might be the perfect reward for shoveling snow at 7 am, but it does a serious number on your skin.
You know why skin feels all kinds of sad after an extra-hot shower? It's because all that nearly-boiling water strips away the natural oils in your skin, leaving it thirsty.
Instead, take a warm shower that's under 10 minutes. The longer your shower, the more dried out your face will be.
If you need hot water to help you wake up, try using a citrus-based body wash or facial cleanser to help get your body moving.
Try: Citrus Blossom Sugar Body Scrub, Hempz, $18
Don't skimp on the rough stuff.
It might seem counterintuitive to exfoliate when your skin is already so dry and disastrous, but it really does work magic.
Instead of going for the ultra-rough exfoliant you used in the summer, opt for a lighter formula that's less irritating on your skin.
Try: Sugar Crush Body Scrub, Soap & Glory, $15
Keep all that alcohol at the bar.
If you're using a toner, chances are it's made with plenty of alcohol.
Alcohol-laden skincare does the same thing one too many drinks does to your body after a night out. It completely dries you out.
Instead, opt for a natural toner without the high alcohol content.
Try: Alcohol Free Toner, Neutrogena, $8
Give yourself a hand job.
Okay, not literally (maybe literally).
Your hands get f*cked up in the winter, especially if you're like me and never wear gloves.
Always keep a moisturizing hand cream in your purse to ensure a little smoothing action is accessible all winter long.
Try: Sensual Hands Balm, Kenzoki, $14