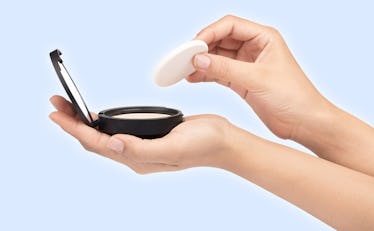 If You've Got Oily Skin, You'll Love These Mattifying Pressed Powder Foundations
If you have oily skin, you know how difficult it can be to find a foundation that works with your complexion. So many liquid formulas are oil-based, which turns your already greasy skin into a full-on oil slick. And even if a product is oil-free, liquid makeup typically doesn't do a good job of controlling oil. Instead, you should be looking for a powder foundation, which will give you coverage and keep your face from looking shiny. But what are the best pressed powder foundations for oily skin? Find out, ahead.
But first, a word on powder foundations. There are typically two types of powder foundations — loose and pressed. Loose powders are generally better for spot-correcting oily areas or to apply as a finishing powder once you've already concealed and put your "regular" foundation on. Pressed powders, on the other hand, work well as a straight-up foundation. Since they're pressed, the powder is much more concentrated and therefore applies more evenly, creating a smoother base. They're also better for more coverage, as opposed to loose powder foundation.
If you're typically on the really oily side, you might consider applying your foundation with a sponge or Beauty Blender instead of a brush. By pressing on the powder with a sponge (always damp, of course), you'll get heavier coverage and more matte result.
Below, find five of the best options on the market.