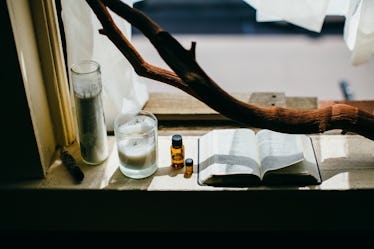 This Is The Most Convenient Way To Use Your Essential Oils In Your Daily Routine
Unless you're oblivious to the tiny vials and clunky diffusers wellness gurus are bragging about on social media, you're probably aware that essential oils are the "it" holistic trend as of late, and for good reason. These concentrated liquids are extracted from plants and used for pretty much every physical and mental ailment across the board from head and muscle aches to stress relief. The question isn't so much what to use them for, but instead, how to use them, and if there's a difference between diffusing and topical essential oils. As someone who knew the bare minimum about these magic potions not too long ago, I would have assumed either method produces the same results, but as it turns out, there's a bit of a distinction between the two.
This isn't to say that diffusing essential oils is more effective than applying them topically, or vice-versa; it really depends on why you're using them, and the end result you're looking for. When you think about it, it's pretty brilliant just how many different ways you can go about utilizing these holistic remedies: inhalation, adding a few drops to your bathtub, massaging along the temples, or even applying a roller ball to your skin. Experts didn't come up with all these methods to impress us, though; each form of application serves a purpose.
Adding essential oils to a diffuser is a kind of at-home aromatherapy that can help improve your overall mental well-being.
Aromabreeze White Utrasonic Diffuser, $79.95, Saje
Hydrating sheet masks and vibrant bath bombs are one way to treat yourself, but have you ever thought about adding aromatherapy to your pampering regimen? Trust me guys, it's a total game-changer.
If you've ever splurged on a professional massage, you might recall lying on the table and inhaling some sort of lovely, floral aroma. Oftentimes, spas will have some sort of aromatherapy going in the room with oils and incense so their clients can feel at ease from head to toe, physically and mentally. Adding a diffuser to either your bed or living room decor can offer the same effect.
According to the essential oils brand doTerra, essential oils are "quickly absorbed by the smell receptors" and connect with the limbic system, aka the part of the brain that controls your sense of smell, emotions, behaviors, and memory. Diffusion is, obviously, one of the easiest ways to reap these oils' aromatic benefits. To do this, doTerra suggests purchasing a cold air or water diffuser, mixing a few drops with water into a spray bottle for a spontaneous spritz throughout the day, adding your favorite scent to a load of laundry or sheets, and evening using them in cleaning products.
In terms of their therapeutic benefits, it makes more sense to use essential oils topically by massaging them into the skin, or adding a few drops to a warm bath for soaking.
Before diving into just how amazing essential oils are for topical use, it's important to note that, according to essential oil marketing company Young Living's safety guide, pure essential oils should be mixed with some kind of carrier oil — such as vegetable, coconut, olive, or grapeseed oil — to make sure application goes smoothly, and that the pure oil doesn't irritate your skin.
Having said that, using essential oils topically works best for muscle aches and joint pains, and they can be used all over the body. According to MASSAGE Magazine, rubbing essential oils like peppermint, lavender, eucalyptus, or chamomile into problem areas can effectively heal wounds, treat acne and skin inflammation, relieve back pain, reduce stress, stimulate energy levels, and detoxify the body from harmful bacteria and toxins.
Personally, I've found that adding essential oils to my shampoo, or directly into a tub full of warm water, is usually more effective than clicking on a diffuser. Think of it this way: While aromatherapy is certainly heavenly, rubbing an oil like peppermint into my scalp not only stimulates hair growth and deeply cleanses my follicles, but it allows me to experience all of the same soothing, aromatic benefits, as well. In that sense, I'd say diffusing actually limits the benefits you could be reaping from topical use.
Plus, topical essential oils, like roll-ons, are more convenient to use than diffusers are.
ArtNaturals Aromatherapy Essential Oil Roll On Set, $18.99, Amazon
Unless you work in an office that's pretty relaxed about what's on your desk, it's not always possible to enjoy some aromatherapy to help you unwind during your lunch break. Topical essential oil blends, however, can do the trick.
The first time I actually used an essential oil, I rubbed Edens Garden Digest Ease on my upset stomach, and it worked wonders. Brands like Edens Garden and Young Living sell roll-ons that are already diluted and/or mixed with other oils to offer relief on-the-go, which is super convenient when you're in a rush, or in a public place where diffusion isn't an option. This way, you can discreetly excuse yourself to the ladies room, or simply dab on right at your desk whenever you need to.
Bottom line: You're bound to fall in love with essential oils regardless of whether you use them topically or through a diffuser. Put simply, do you, girl.