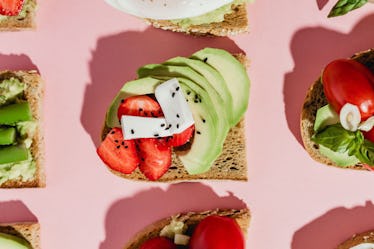 These Yummy Avocado Toast Captions Are All You Avo Wanted For Your Pics
Eating avocado toast is often dubbed as such a millennial thing to do, and to be honest, we're always here for it. It's easy to whip up, acceptable to eat any time of the day, and it's photogenic enough to make an epic debut on your social handles. So, when you're swooning and drooling over your specially crafted snack and want to post your creation, these avocado toast Instagram captions should help you out.
The whole trend of taking pictures of your food isn't going anywhere, especially since avocado and all of its glory exists. In fact, seeing the yummy food that pops up on your Instagram feed or Snapchat has resulted in a significant amount of your stomach grumbling episodes. For avocado toast specifically, millennials will surely take ownership of making that a thing, and there's absolutely no shame in our game. (Take our money, avocados. It's so worth it.)
Avocados are diverse AF. They go with just about anything your tummy can think of. You can mash them up and make guacamole, put it on your face as a rejuvenating mask, or dice them to put in your tomato and mozzarella salad. And while green may not be your favorite color, when avocado is involved, you're all about it. Avocados hardly ever need a filter, and any of these 30 captions will tie your post together.
1. "There's no better duo than avocado and toast." — Unknown
2. "You are everything I avo wanted." — Unknown
3. "Get in my belly." — Unknown
4. "When you give your toast an avocado face mask." — Unknown
5. "When you've been dreaming about avocado toast all night." — Unknown
6. "My snack beats your snack." — Unknown
7. "If it wasn't avocado toast, did you even really eat?" — Unknown
8. "You can't please everyone. You're not an avocado." — Unknown
9. "We go together like avocado and literally everything." — Unknown
10. "It's a good day when avocado toast is involved." — Unknown
11. "You're the avocado to my toast." — Unknown
12. "You have guac to be kidding me." — Unknown
13. "I don't even know who I am without avocado toast." — Unknown
14. "About to do some avo-cardio." — Unknown
15. "The story of avocado meeting toast is my favorite." — Unknown
16. "Zero guacs given." — Unknown
17. "Let's eat and avocuddle." — Unknown
18. "You had me at avocado." — Unknown
19. "You'll never dethrone this avocado queen." — Unknown
20. "Toast seems incomplete without avocado." — Unknown
21. "Sorry for what I said before I had my avocado toast." — Unknown
22. "The one snack I have a hard time sharing." — Unknown
23. "Relationship status: avocado." — Unknown
24. "Current mood: Where's the avocado toast?" — Unknown
25. "Don't touch my avocado toast." — Unknown
26. "I work to support my avocado habit." — Unknown
27. "If loving you is wrong, I don't want to be ripe." — Avocado
28. "Avocado toast would always text you back." — Unknown
29. "Eat your heart out. I know I will." — Unknown
30. "Keep calm and eat avocado toast." — Unknown
Whether it's for breakfast, lunch, or dinner, avocado toast is the G.O.A.T. Sorry in advance for making you drool on your phone or computer.