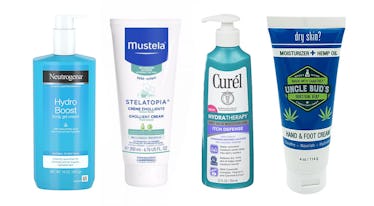 9 Tricked-Out New Body Lotions For Ridiculously Soft Winter Skin
Neutrogena, Mustela, Curé, Uncle Bud's
We're in peak fall, people, and you know what that means: winter is coming. Along with winter, as you might know, comes cold weather, heavy winds, and dry, cracked skin. These are my top three biggest pet peeves, and as a result, I've been on the hunt for the best body lotions for winter 2018, to ensure we can all have soft, smooth skin despite our chilly surroundings. If you, too, find yourself deeply invested in achieving well-moisturized, supple skin before the holidays hit, then get excited, because somewhere on this list is the lotion for you!
While some of us are taking preventative steps to avoid dry winter skin, there's also those of us already suffering from dryness, who need our products to work double duty when it comes to healing and hydrating our dry skin now, as well as preventing dryness later on when the temperature will make matters worse. The Curél Hydra Therapy Itch Defense Wet Skin Moisturizer ($11, target.com) does just that, which is why it's dermatologist-recommended for super dry skin. Applying the lotion on wet skin post-shower allows it to really seep into the pores and moisturize, without leaving you feeling greasy afterwards. Ingredients like vitamin E, oatmeal extract, and a ceramide complex work hard to strengthen and replenish the skin's outer barrier, preventing itchiness and protecting against future dryness.
When I really want to make sure my skin is cared for, I often turn to products designed with vulnerable skin in mind: baby skin, to be exact. Mustela is a brand that has long catered to newborns, babies, pregnant women and new moms, so they know a thing or two about really nourishing and protecting the skin. This season, I'll be opting for their Stelatopia Emollient Cream ($26, mustelausa.com) as one of my body lotions of choice, regardless of the fact that I have no baby and am in no way pregnant, because, hey, this stuff really works. The gentle, light texture makes it ideal for daily use, but don't be fooled, because it's hard at work protecting and soothing the skin thanks to ingredients like sunflower oil distillate and avocado perseose, which provide lipids to the skin that it lacks when suffering from dryness or skin issues like eczema.
Cracked heels? Irritated knuckles? Flaky elbows? You might need a product like Uncle Bud's Hand & Foot Cream ($18, amazon.com) to really soothe and heal dramatically dry areas. This formula contains hemp seed oil — not to be confused with THC or CBD, hemp oil is legal in all states! — to really target and repair the driest of extremeties.
Personally, I've never been a huge fan of body lotions because the all-over applications can feel endless and, TBH, downright annoying. However, hydrating the skin is totally necessary during colder months, and I've found the only way to ensure I do so is to make the experience feel as spa-like as possible, so that I consider it more of a treat and less of a chore. For luxe vibes, I always reach for the L'Occitane Almond Milk Concentrate ($50, usa.loccitane.com), which has the strength of a cream but applies feeling like 👏 silk 👏 on the skin. I also love that it sinks in super-fast, so I'm not left with that just-applied sticky residue so many other lotions leave behind. Walnut seed and almond extracts don't just give this product a good smell — they keep skin soft and smooth, and one application promises 48 hours worth of hydrated protection.
Sol De Janiero has been known for their iconic smoothing body cream for quite some time now, but this is the first year you can snag the brand's Biggie Biggie Bum Bum Cream ($75, sephora.com), which features the signature formula in its largest tub yet, with a whopping 16.9 ounces of product. Yep, you read that right — over a pound of body cream in one sunny orange container, so you'll be fully stocked from the first cold day of fall all the way through winter and into the chilly start of spring. If you're a one-and-done buyer, snagging this ensures your skin will stay supple for a long, long time.
If you're looking for something to throw in your bag for on-the-go hydration, look no further than the Lano Coconutter Body Milk ($20, nordstrom.com) which is ideal for all-over use but comes in a convenient, hand cream-like tube. Coconut oil and lanolin restore dry winter skin and give it back its smooth, silky, summertime feel in just one application.
Jergens has really blessed the dry skin community with two new body lotions in their Brilliance collection that aim to perfect while they replenish: the Skin Illuminating Moisturizer ($12, amazon.com) and the Flawless Effects Moisturizer ($12, amazon.com). Not only are these lotions super hydrating, but they both come with their own respective beautifying properties as well, so skin can look as perfect as it feels. The Skin Illuminating Moisturizer has a peach and gold translucent shimmer infused into the formula, so it's basically a subtle highlighter for your entire body, which is a necessity, IMHO. The Flawless Effects Moisturizer contains sheer blush pigments to blur and even out skin tone (without causing any funky color changes) to give skin a flawless, airbrushed finish. These are both huge musts for the holiday party szn, when I'll be letting my legs see the light of day for the first time after weeks of jeans and leggings.
Last on my list is the Neutrogena Hydro Boost Body Gel Cream ($9, neutrogena.com), and at just under $10, it's a total steal, especially considering it contains one of the skincare world's most popular hydrating ingredients: hyaluronic acid. HA is found naturally within the skin's cells and keeps us looking plump and youthful, so adding it into your skincare routine will only up your chances for gorgeous, moisturized skin. The gel cream is super lightweight and quickly absorbent, but the formula is designed to target dry skin in particular, and ensures it will look and feels smoother and softer with regular use over time.
Hydro Boost Body Gel Cream
Neutrogena
$9
Did reading this give you the itch to properly moisturize? Believe me, I was shooting glances at my body lotion the whole time. Now that all's said and done, I'm off to give my body the love and hydration it deserves — hopefully you do the same before the winter weather kicks in!