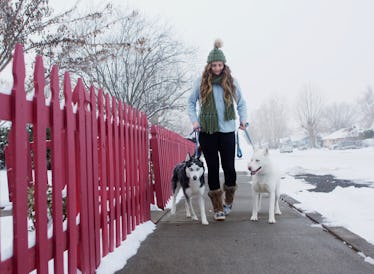 6 Myths About Cold Weather That You Can Officially Stop Believing This Winter
Winter gets a bad rap. It's cold, it's dark, and many people get a little low and feel less energetic during these frigid few months of the year. That being said, there are a lot of myths about cold weather that I think we need to dispel, my friends, in the name of actually trying to enjoy these colder days, and using them as a time for both activity and reflection.
Now, an interesting fact about winter that, IMO, works in its favor, is that during the month of January, the Earth reaches a point in its rotation where it is actually closer to the sun than it is all year long. Interesting, right? The drop in temperatures during the winter season is a result of the way the Earth is tilting on its axis. Personally, I like to think the Earth's proximity to that glowing red orb in the sky means that winter is a time when we're actually gaining more energy, rather than losing it.
With that in mind, here are a few commonly held cold weather myths you can ditch for good, in favor of creating a lovelier and more factually based relationship with a time of year many consider to be the most challenging and mysterious. Heck, once you let go of those old beliefs about the cold, it might actually become your favorite season. One can dream, right?