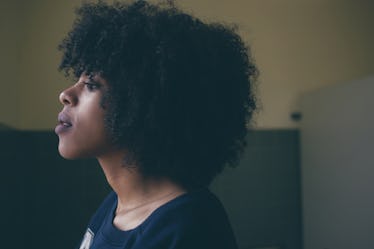 How Cold Weather Affects Your Stress Levels & What You Can Do About It
I find winter to be a particularly difficult and daunting time of year. The combination of shorter days and major drops in temperature leaves me feeling pretty overwhelmed and defeated most of the time. I mean, it just feels more difficult to do anything when the weather outside is brutal — even heading to the store, not to mention getting on the subway for work, or trying to go for a jog. I can't help but wonder, does cold weather cause stress? As it turns out, it's possible that it does.
First of all, it's no secret that the winter weather can cause seasonal depression, or seasonal affective disorder, and increased stress levels can, indeed, be a symptom of that. According to Mayo Clinic, seasonal affective disorder is defined as a mood disorder that returns seasonally. It is believed a lot of these symptoms come about because of decreased exposure to sunlight and the impact that has on the body's circadian rhythm and ability to produce serotonin and melatonin. This can affect not only your mood, but also your motivation and energy levels. Moreover, it can lead to feelings of hopelessness, and it can even affect both your sleep patterns and your appetite.
But when it's freezing outside, it's kind of a challenge to find reasons to go outside and soak in what little sun there is. So, if you, too, are someone who's really feeling the toll the cold weather can take, be sure to amp up your self-care game and incorporate a few of these stress-relieving tips to ease that icy edge.