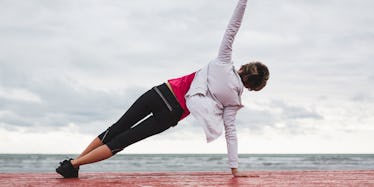 8 Realistic Fitness Resolutions For The New Year That You'll Actually Want To Stick To
Each year, millions of people make New Year's resolutions, and each year, those resolutions are promptly forgotten about within a month's time, if not sooner. TBH, sticking to New Year's resolutions is hard work, especially if those goals involve a totally revamped workout routine, or a promise to yourself to exercise a certain amount each week. These objectives can be hard to stick to because they're often just plain unrealistic, and therefore unattainable. However, if you set some practical fitness New Year's resolutions before the clock strikes midnight on Dec. 31, there will be absolutely nothing stopping you from realizing those intentions in the weeks to come.
Of course, workout-related New Year's resolutions are not a new idea. We've all seen how aggressively crowded the gym is during the first few weeks of January. But without fail, by the time February rolls around, the crowds disperse, and it's back to the usual handful of fitness fanatics. According to U.S. News Health, this is because approximately 80 percent of New Year's resolutions crash and burn by the second week of February.
But don't let those statistics make you feel like you're destined for fitness failure. If you set smaller, more manageable, and more attainable resolutions, you'll be much more inclined to stick to them and embrace the changes headed your way.
Personal trainer Paola Marquez reminds us that smaller goals often lead to bigger and better results. "When talking about intentions for the new year, I always recommend setting realistic goals in the form of small steps that can take you to your final goal in a more natural way," she tells Elite Daily.
So, when you sit down to think about your goals for 2018, start small with these five manageable and motivating fitness resolutions.