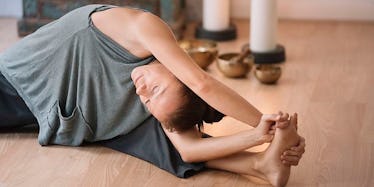 7 Yoga Poses That'll Put You Right Back To Bed When You Wake Up In The Middle Of The Night
I can confidently say that sleeping is one of my all-time favorite hobbies. But when I cuddle up in bed for some blissful shut-eye, there's absolutely nothing worse than waking up in the middle of the night and not being able to fall asleep again. Instead of losing your sh*t when that happens (personally, I know that an interruption in my slumber gets me heated AF), rolling out of bed and trying a few gentle yoga poses that help you sleep is sure to get your snooze back on track in no time.
From counting sheep, to deep breathing, to tensing and relaxing your muscles, there are so many methods that claim to help you fall back asleep when you find yourself wide awake at 3 a.m. But amongst all of the recommendations (that often don't really work, TBH), yoga might be the simplest and most effective cure to your sleeplessness.
Within the practice of yoga, every pose is meant to have a specific, healing effect on both your body and your energy. Incorporating certain asanas into your flow will calm the chatter in your mind so you can crawl back into bed feeling as relaxed as ever.
Give these seven soothing poses a try the next time you wake up in the middle of the night. Honestly, you might just fall asleep before you can even get through the entire routine.