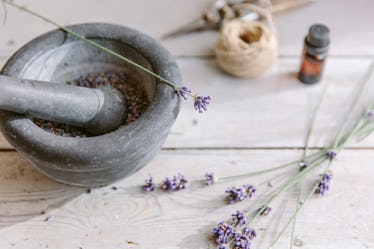 These Essential Oils Will Transform Your Room Into The Stress-Free Sanctuary You Deserve
Essential oils, to an outsider, can be a little intimidating. Most people know they're similar to a perfume in that they have something to do with a liquid smelling good, but what you might not know is that essential oils have been used throughout history as medicinal tools. Nowadays, we don't exactly use essential oils as antiseptics for wounds, but we still turn to essential oils for stress relief, anxiety reduction, and relaxation, to name a few.
Essential oils can be an amazing aid for anyone dealing with anxiety, depression, insomnia, or just plain stress in their life. Although there's controversy over whether these oils heal you chemically or the fragrances simply work to calm you down psychologically, the consensus is clear on the type of relaxation a pure essential oil can provide for you.
Honestly though, the best part about essential oils is that there's a range of fragrances to choose from, so you can basically hand-pick the oil that's most appealing to your specific senses. If you're into the outdoors, for example, you might go for cedarwood. If you love being pampered, you might opt for rose oil.
Once you find the one you love most, you can put a few drops in a diffuser, or even rub some against your temples.Here are 10 essential oils that are sure to transform your room into a peaceful, stress-free sanctuary.