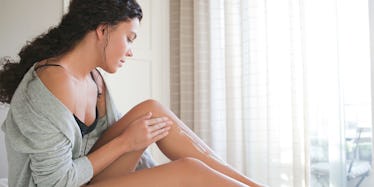 30,000 Women Swear By This Brazilian Body Lotion To Save Their Dry Skin
Shutterstock
This morning, I woke up with chapped lips for the first time in months.
For others, that's a sign of breathing through your mouth for eight hours or not applying enough lip balm before bed.
But I knew: Winter is coming.
I can feel it, and the delicate skin of my mouth can, too. The season of itchy sweaters, flaky shins and dry elbows is on its way. There's nothing we can do to stop it.
In preparation for dry skin season (otherwise known as "autumn"), I've been hoarding body lotions like an extremely hydrated version of Gollum. Who needs the One Ring when you can just have exceptionally soft hands?
Brazilian Bum Bum Cream, $45, Amazon 
Most recently, I've fallen in love with a jar of Sol de Janeiro's cult-favorite body lotion, Brazilian Bum Bum Cream (pronounced "boom boom," in case you thought this product couldn't get any funnier). The company sent over the product in a press mailing, and it hasn't left my greedy (moisturized) hands since.
Interestingly, I'm not the only lady to think it's the Holy Grail of body lotion. Sephora's users give it an astonishing 30,000 "loves," calling the scent unforgettable and the shimmery cream's results unparalleled.
Sol de Janeiro markets it as your chance to have one of the best booties in the world, alongside Brazilian women like Alessandra Ambrosio and Adriana Lima.
Sure, Bum Bum cream is a hefty $45 a jar, but a little stretches a long way. Despite the name, it's not exclusively intended for the booty area, either.
The formula contains guaraná caffeine to plump skin, coconut oil to moisturize and a scent unlike any other. The mixture of caramel and pistachio is, to put it lightly, addictive.
Even if you're not a fan of heavy scents, this one will leave you awestruck with its sexiness.
To be totally honest, my mouth waters a little bit every time I open the jar to scoop out a little of the fluffy cream.
Reviewers call the fragrance a"perfect tropical cake vacation" and say they've "never received so many compliments for a scent."
One even adds,
I LOVE the smell of this lotion. I fell asleep sniffing my skin. Creepy I know.
Just how popular is Bum Bum Cream? When Sol de Janeiro launched its newest product, a shower cream-gel called Brazilian 4 Play, it sold out on Sephora within a day.
Brazilian 4 Play, $25, Amazon 
In other words, get your hands on this lotion.
With winter on its way, you'll need a tropical vacation — if only for your nose and dry skin.