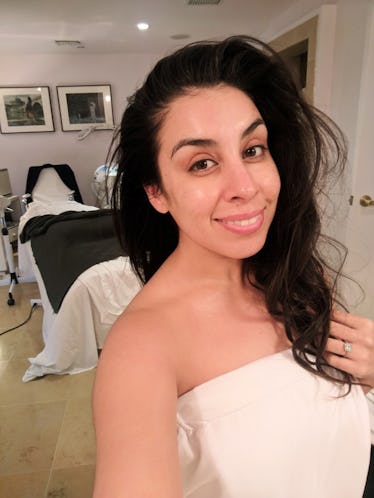 I Got The Same Pre-Oscar Facial As The Stars & I Haven't Worn Makeup Since
Stephanie Montes
I've gotten facials before, but some celebrity aestheticians save the really good stuff for their high-profile clients. I met up with Joanna Vargas, the woman behind the most-beautiful faces in Hollywood and asked her "what facial should I get?" Not only did she use her best products on me, she used five different machines (well, six if you include the full-body light therapy bed I laid in). I won't be attending the Oscars, but if I did, my skin could win an award. Here's what it's really like to get a red-carpet facial just like the celebs.
I arrive at the Sunset Tower Hotel in West Hollywood to meet with Vargas— if you haven't been there, the place just screams old-Hollywood glamour. I take the elevator to a secluded (almost secret) part of the hotel and open the doors to a modern, yet cozy salon. The walls are painted soft pink and there are only a few treatment rooms, which feels so exclusive. "Most of my celebrity clients that live in New York use the hotel when they come here so it's kind of perfect. It feels like a pajama party, especially the morning of [award-show days]. People will just come down in a robe and slippers and have their treatment, then go back upstairs for hair and makeup," Vargas told me.
Going into Oscars weekend, Joanna Vargas' pajama party will be in full effect. "It's extremely hectic. Saturday is my longest day. I'm going to be working 15 hours that day. I usually reserve the morning of the awards for my nominees because it's only fair," said Vargas. "Sunday morning, I will have my nominated clients and it's an early day because everybody goes into hair and makeup by around 12 p.m., because the red carpet usually starts around 3 p.m."
Vargas decided to hook me up with the The Supernova Facial, which was designed specifically for her celebrity regulars. Since most of her clients are constantly jet-setting, their skin can become dry, sensitized and prone to breakouts. She wanted to create something that replenished lost hydration and set skin aglow.
Before my facial, she urged me to get into a tanning bed-looking machine. According to her, it's the perfect way to jumpstart my skin from head to toe. She tells me she invented the full-body gadget to mimic a facial she's been doing for years. "LED light therapy is a technology I've had in my salon since almost the beginning. Early on, I was seeing such a huge result with my clients because it's anti-inflammatory and stimulates collagen production. Clients started requesting body parts to be done while I was doing their face. So many cients would say, 'I wish there was a whole bed of LED.'" After researching an LED bed and coming up empty-handed, Vargas created one and now holds the patent on it. Can you say genius?
"All of my clients in New York use it at least once per week," said Vargas. "Who doesn't need collagen production on their whole body? It's great for cellulite and wrinkly knees and all these issues that come up as we get older." It can even be programmed to target different issues on the body at the same time. I get in for 30 minutes and it feels just like a sun bed. I'm not claustrophobic in here at all — I actually almost fall asleep. This treatment alone will run you $150, but Vargas sells packages to save you some extra cash.
The facial starts with an aqua peel machine, which uses a solution of glycolic, vitamins, and nutrients, to exfoliate whist infusing the skin with all those amazing ingredients. It's so gentle at removing dead skin and dry patches but also makes your skin soak up all the goodness. When things are really bad on clients, she does some extra exfoliating with her Joanna Vargas Exfoliating Mask ($75; net-a-porter), which is an amazing option for at-home treatments. "Exfoliation is like a mini facial. I recommend that all my clients exfoliate once or twice per week, then do a sheet mask after," she explained. "If you have a layer of dead cells on the surface of the skin, nothing good will be able to get in there, so exfoliation is a must."
Next, she applied a marine-based collagen mask, in conjunction with a peptide serum that makes skin look tighter and brighter. Over that, she layered a molding mask that goes from a jelly-like texture and hardens to a rubber. This holds water and moisture in the skin, and really helps you soak up those peptides and collagen.
I must admit, this part felt as intense as it sounds. I noticed layer after layer being put on my face and before I knew it, my eyes and mouth were sealed shut, and I had two holes at my nostrils to breathe through. I started to panic and waved my hands for help. Vargas' aesthetician slowly peeled it off my mouth, and since I was then able to breathe through my mouth and talk, I didn't feel as claustrophobic. She left it on the rest of my face for 20 minutes.
Once Vargas removed the heavy mask, she gave me a few minutes of microcurrent to depuff and contour my face. It's not painful, but it entails tiny shocks of current that are basically a workout for the muscles in my face. Immediately after that, she does some targeted cryotherapy (aka harnessing really cold temps) on my face, which she paired with her Vitamin C Serum ($150; Dermstore). This stimulates cell metabolism, acts like an anti-inflammatory, promotes circulation, and makes the skin glow. "I've never really seen a treatment more effective for getting that dewy glow," explained Vargas. As you would gather from the word cryotherapy, it is a cold machine, but it's not painful at all. I didn't actually cry through it, it just feels like a soothing massage.
The last gadget Vargas harnesses looked like an airbrush machine, and felt like she was shooting air into my skin. It's an oxygen treatment infused with green tea, vitamins, aloe, and hyaluronic acid, and she basically injected all those ingredients directly into my pores. She finishes with a massage and her new Supernova Serum.
"It's my brand new serum which I love. Retinol stimulates collagen production and cell turnover but it's also supported with other ingredients that are anti-inflammatory, address pigment and are very hydrating. Instead of a normal retinol serum that can be very drying and cause a lot of patchiness and inflammation, this formula is very soothing and makes the skin look like a supernova."
As for me? Six machines, a small panic attack, and a face massage later, I feel like I'm ready to hit the red carpet.
If you ever wondered how celebrities like Mandy Moore, Debrah Messing, Dakota Johnson, Sienna Miller, and more have the confidence to walk a red carpet with countless cameras pointed at them and millions of people watching, they owe some of it to Joanna Vargas. I walked out of her salon feeling amazing! Some facials leave you looking red and irritated, but The Supernova Facial had me feeling like a supermodel version of myself. It even gave me the courage to post a makeup-free selfie on Instagram. How's that for confidence?