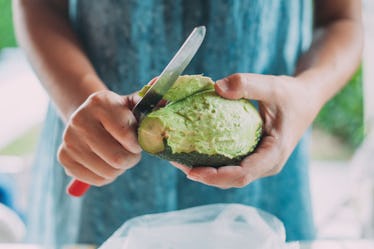 Experts Reveal The Hidden Benefits Of Avocados That You Definitely Never Knew About
It's a running joke that millennials like myself are buying avocado toast instead of houses these days. July 31 is National Avocado Day, aka the most glorious of all food-related holidays, and I must say that the benefits of avocados are so numerous, I can't even stay salty at those who dare to avo-shame me. Not only would I happily bathe in the tasty green stuff, but I personally consider an avocado purchase to be such an investment in my health that, for me, every "guac is extra" penny is totally worth it.
Probably the best known benefit of avocados is their fatty goodness, which does wonders for nourishing your skin and your hair. But what you might not realize is, according to Mia Syn, MS, RDN, a registered dietitian nutritionist, and national on-air nutrition expert, those powerful fats can also help your body reap the benefits of other healthy foods in your diet. "Healthy fats, like those in avocado, help increase the absorption of fat-soluble vitamins A, D, K, and E," she tells Elite Daily over email. "Vitamin K is important for blood clotting, while vitamin E helps protect cells, tissues, and organs from free radical damage."
What's more, Adam Perlman, MD, MPH, FACP, an integrative health and well-being expert at Duke University, tells Elite Daily that avocados "contain 15 percent monounsaturated fatty acids-rich oil, which helps to increase the bioavailability of carotenoids from salads and salsa often consumed with avocados." In much simpler terms, this basically means adding some guac to your salad or scooping up the green stuff alongside your salsa are two easy (not to mention delicious) ways to reap the goodness of all of the nutrients hidden inside your dish.
What's more, science says a certain nutrient in avocados could help dial down your daily stress levels.
Avocados are rich in magnesium, and according to The New York Times, the nutrient can seriously benefit your mental health when you consume it regularly. "Magnesium deficiency has been associated with higher levels of stress, anxiety and difficulty relaxing, which are key ingredients to getting good sleep at night," Dr. Raj Dasgupta, a professor of pulmonary and sleep medicine at the University of Southern California, told the news outlet.
And what better way to get a heaping dose of magnesium into your system than to treat yourself to a big ol' piece of avocado toast? Judge me all you want for being a walking, talking millennial stereotype — I'll be over here enjoying my favorite food and my ability to relax and a better sleep schedule.
Another reason to eat that avo all day every day? Research shows that the creamy goodness is a powerful tool for preventing eye issues.
In a study published in the journal Investigative Ophthalmology & Visual Science, researchers showed that some of the carotenoids, or pigments found in avocados, can be effective in preventing cataracts, a common vision problem in older people.
And if all of that isn't enough to convince you to indulge in the green stuff in honor of National Avocado Day, consider the fact that this tasty fruit can, surprisingly, really help smooth things out in your stomach. According to the University of Maryland Medical Center, fiber helps your digestion, and it can also prevent constipation. The mighty avocado just so happens to contain about 40 percent of your recommended daily intake of fiber, so go ahead and eat up — better yet, spread it on some whole grain toast for even more of a boost to your digestive system.
In your anticipation of enjoying your out-of-this-world avo mash, make sure you don't miss out on any of the good stuff. "The dark green flesh closest to the skin contains the highest level of nutrients, so be sure to scoop it out with a spoon before discarding," registered dietitian nutritionist Mia Syn tells Elite Daily. But who am I kidding? Nobody would throw away a single scrap of avocado.