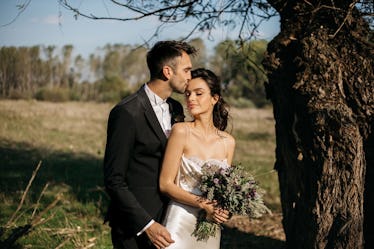 Based On Your Zodiac Sign, Here's The Wedding Style You're Destined To Love
To say "a lot" goes into wedding planning is the understatement of the century. Not only are you tasked with coordinating a balanced cast of friends and family, but you also need to secure catering, tunes, a venue, and an aesthetic to guide the evening. Based on your zodiac sign, the wedding style that's your best match could be anything from a "Roaring '20s"-themed affair to the envy of Cape Cod. As you're planning your ceremony, everyone will have something to say about your wedding and the little details. But you can guarantee: The stars won't lead you astray on your special day.
When flipping through bridal magazines or wedding photographer Instagram accounts, it's easy to get caught up in all the different wedding styles. Just when you think you've got an idea of what you want your wedding to look like, boom! Some beautifully glazed cake or eclectic bouquet throws a wrench in your wedding plans.
By looking to your zodiac sign for inspiration, you can lock down a vibe, a venue, and a color scheme that best suits your personality and aura. Be sure to check your moon sign and rising for some ideas about what extra touches you should add to your ceremony.