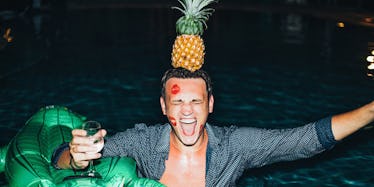 10 Reasons Why Leos Are The Most Entertaining People To Party With
They don't call Leo the King of the Jungle for nothing!
Born between July 23 and August 22, the sun signs that are lions and lionesses are traditionally brave, loyal and love being the center of attention. Not to mention, a flair for the dramatic makes them vibrant entertainers!
Aside from their big egos, Leos will brighten up the night with their radiance.
Check out these 10 characteristics that make Leos the most entertaining people to party with:
1. Brave
Always ready to perform, Leos will roar in karaoke. Whether it is a country crowd-pleaser or a beautiful ballad, Leo is up for the challenge!
Even if it isn't a competition, Leo will want to win. Chances are there will be boyband-style, coordinated dance moves to go with the show.
You might want to sign up early, as sharing doesn't come easy to Leo!
2. Fierce
With a lion's mane, Leos always have good hair. Their tresses sparkle and shine with beauty.
Not one to be in a rut or follow trends, they are the kings and queens of reinvention. Style comes first for this fiercely royal sign.
3. Performers
Did someone say selfie? Leos love the limelight, and they're up on all the photo-sharing apps, from Snapchat to Flickr.
They know the best filter, hashtag and lighting to bring out the best in you! Leos guide you to your best side, and they will help you strike a pose.
Lights, camera, action! The spotlight is on.
4. Bold
Odds are, there is something sparkly in their closets you can borrow.
For Leos, fashion is a form of expression and a chance to be bold! Golds, reds and other fiery hues rock centerstage with passion.
This is one sign that is not afraid of color or standing out.
5. Ambitious
VIP treatment is to be expected. Always besties with the doorman, your Leo knows the next big thing before the last big thing is even over.
Leos take charge with plans and don't disappoint. Whether it's front-row seats to Fashion Week or backstage passes at EDC, Leos have it taken care of with a quick text.
6. Loyal
Leo's warm, loyal nature means you're getting home safe and sound in one piece. If things get a little crazy, the leader of the pack makes sure everyone sticks together.
There's no need for a DD; your Uber is already on its way! By the end of the weekend, you might not have your favorite shoes, ID or lip gloss, but at least you'll have your friends.
7. Energetic
All sun signs radiate positivity! Leos are known for their easygoing happiness.
Their effortless ease is contagious, and with them, you'll end up having a great time any day of the week. With Leo, fearless fun is guaranteed!
8. Limelight
For this determined sign, everything has a way of working out. With Leo, you might find yourself getting introduced to that cutie across the bar.
Leos are action-oriented and fortunate, a perfect recipe for entertainment.
9. Charismatic
There's no business like show business, and you'll never know what will happen with Leo by your side! Being with these entertainers is exciting and refreshing.
If you're planning a party, the list isn't complete without a Leo.
10. Ego
Chances are we already know Queen B isn't the only one who has a big ego. No one's perfect, not even a Leo! (Just don't tell us that.)
This sign has a dominating nature that might not mix with everyone. However, a Leo's good-hearted nature offsets any pain inflicted by a little cattiness!